Fame, like money, doesn't grow on trees. At least, that's what we'd like to think. But some family trees have more than a few famous branches. The Hemsworths, the Smiths, the Stillers — these are just a few of the families that have more than one famous face in every family photo. Can you name a few more? Here's a quick look at five famous families of actors who made it big.
The Marx Brothers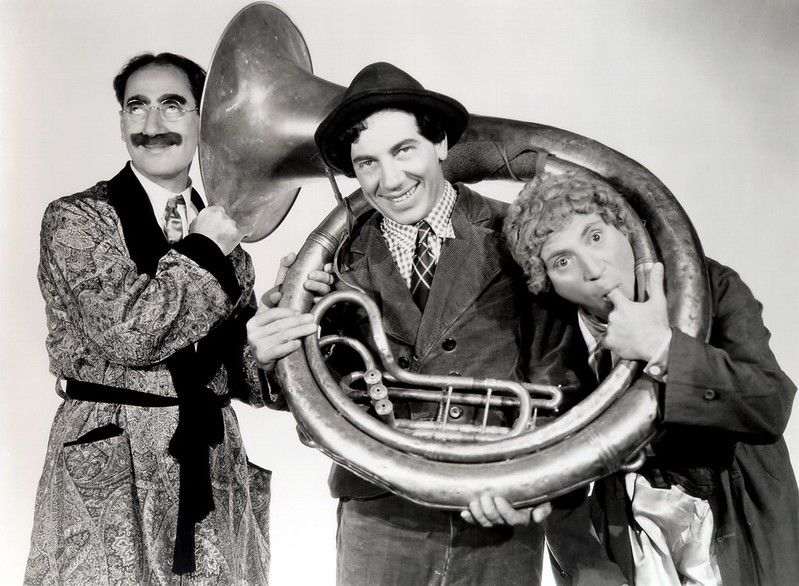 Chico, Harpo, Groucho, Gummo, and Zeppo are officially known as the Marx Brothers. These siblings rose to prominence for their art and comedy both onstage and on screen in the early to mid-1900s. Born Leonard, Adolph, Julius, Milton, and Herbert, the Marx Brothers lived and performed in New York City.
The history of the Marx brothers' upbringing and fame is well-documented. Any one of them could fill a book with their life's story, but it was Chico, Harpo, and Groucho who were most widely known for the characters they created. Of these three, Groucho is most commonly remembered. Today, a number of the films created by the Marx brothers are on the American Film Institute's list of the 100 funniest American movies of all time; "Duck Soup" placed at number five.
The Barrymores
The Barrymore family has roots on both stage and screen that go back more than 150 years. The first famous Barrymore, Maurice, made his acting debut in New York way back in 1875. He married a woman named Georgiana Drew, who also came from a theatrical family.
Since then, more than a few Barrymores have graced the stage and starred in movies. Siblings Lionel, Ethel, and John (children of Maurice and Georgiana) acted in plays on Broadway and found roles in movies and television. Combined, they have more than 300 film and TV credits under their belts. Notable titles include "Key Largo," "The Spiral Staircase," "It's a Wonderful Life," and "Dr. Jekyll and Mr. Hyde."
The Barrymores' fame continued into the modern era through John's granddaughter Drew Barrymore, who may just be the most recognizable member of the family. You probably know her for her dozens of iconic roles: a precocious kid in "E.T.," the adorable love interest in 1990s romantic comedies like "The Wedding Singer" and "Never Been Kissed," a butt-kicking action hero in the 2000s reboot of "Charlie's Angels," and many more.
The Baldwins
"Baldwin" used to be a household name, and several Baldwin family members have had their time in the spotlight. The four famous brothers, oldest to youngest, are Alec, Daniel, William (aka Billy), and Stephen. All have been in movies and on television. Golden Globe and Emmy winner Alec Baldwin is certainly the most famous of the bunch, but each brother has a few memorable roles on his resume:
Alec Baldwin
"The Edge" (1997)
"Glengarry Glen Ross" (1992)
"The Hunt for Red October" (1990)
"30 Rock" (TV series, 2006-2013)
Daniel Baldwin
"Vampires" (1998)
"Mulholland Falls" (1996)
"Harley Davidson and the Marlboro Man" (1991)
William Baldwin
"Virus" (1999)
"Backdraft" (1991)
"Flatliners" (1990)
Stephen Baldwin
"Bio-Dome" (1996)
"The Usual Suspects "(1995)
"8 Seconds" (1994)
Fun fact: Three of the four Baldwin brothers (Daniel, William, and Stephen) starred in the 1989 Oliver Stone movie "Born on the Fourth of July."
The Sheens
The Sheens are a lot like the Baldwins in the sense that various members of the family found consistent acting work in the late 1980s and 1990s and made names for themselves separate from one another.
Patriarch Martin Sheen's famous face is recognizable for early roles in critically acclaimed movies like "Badlands" and "Apocalypse Now," which established the actor as one to watch. Later projects like "The West Wing" and "The Departed" show his continued sharp wit and on-screen appeal.
Martin's two sons Emilio and Charlie are also famous, and a third son, Ramon, is an actor and director who runs Estévez Sheen Productions. Estévez is the family's given last name: Martin Sheen was born Ramón Gerardo Antonio Estévez but adopted a stage name early in his career. Emilio kept the Estévez moniker and got famous for movies like "The Breakfast Club," "St. Elmo's Fire," and "The Mighty Ducks." Charlie (born Carlos) chose to use his father's stage name of Sheen.
The Olsens
It's easy to forget that there was a time when the Olsen twins (Mary-Kate and Ashley) epitomized family-friendly television and movies. The twins grew up in the spotlight: They took turns playing Michelle Tanner in more than 190 episodes of "Full House," starred in 11 of their own branded "Adventures of Mary-Kate and Ashley Olsen" videos, and played a dynamic duo in at least a dozen other films throughout the 1990s and early 2000s. Most of this happened before they were even 14 years old.
What's more, Mary-Kate and Ashley Olsen now run multiple fashion labels and have made a name for themselves (as well as piles of money) as icons and entrepreneurs.
In 2011, a third Olsen sister came onto the scene. Three years younger than her twin siblings, Elizabeth Olsen broke out in a big way with smaller indie movies like "Martha Marcy May Marlene" and "Kill Your Darlings." Her more recent claim to fame is playing Wanda Maximoff (aka Scarlet Witch) in the massive Marvel Cinematic Universe.