Barbie is as much a part of the American cultural fabric as blue jeans, rock 'n' roll, or Dolly Parton. And as such, she, too, conjures up a wide range of emotions and associations that are unique to every individual who has ever owned, or rejected, her image. Today, there are more than 100 Barbie and Ken dolls featuring seven body types (including "petite" and "curvy"), 11 skin tones, and 28 hairstyles, which is a whole lot of progress considering that when she was first introduced to the States in 1959, she had just one look: tall, blonde, and impossibly thin.
But how did Barbie come to be in the first place? And who were the people responsible for the decisions and changes that helped make her both a feminist icon — she was an astronaut two decades before Sally Ride became the first American woman in space — and a constant target of criticism — her hip-to-waist ratio has sparked innumerable "anti-Barbie" dolls? There is a lot to unpack when it comes to the history of Barbie, but tracking her changes over the last few decades is also a way to understand society's evolving attitudes toward women on a grander scale.
Origins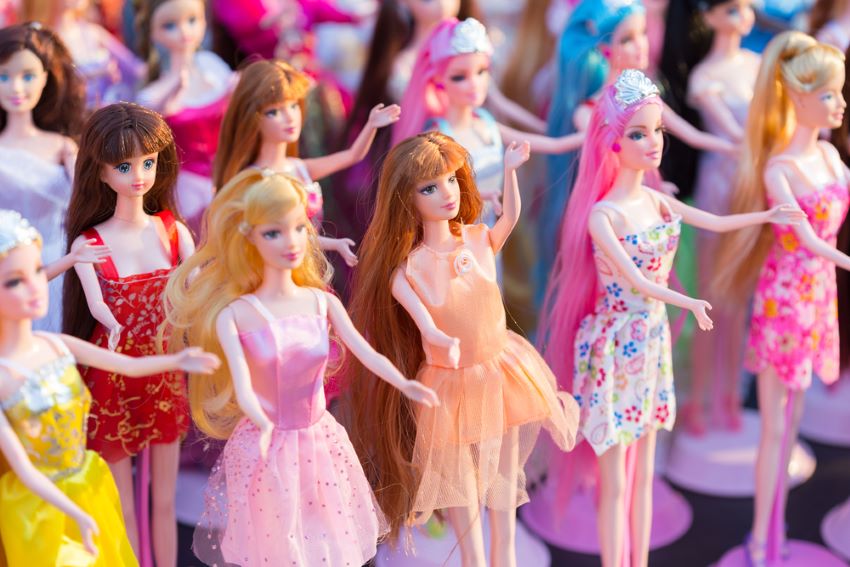 Before there was Barbie, there was Lilli. According to Robin Gerber, the author of Barbie and Ruth, the Barbie we all know today was actually inspired by a German doll created in the likeness of a comic-strip character in the Hamburg newspaper Bild-Zeitung. In the comic series, Bild Lilli was a high-end call girl, and the doll, created in 1952, was intended to be used as an adult novelty item. "Lilli dolls could be bought in tobacco shops, bars and adult-themed toy stores," Gerber wrote. "Men got Lilli dolls as gag gifts at bachelor parties, put them on their car dashboard, dangled them from the rearview mirror, or gave them to girlfriends as a suggestive keepsake."
It was from this misogynistic doll that Ruth Handler, the co-founder of the Mattel toy company, got the idea for a new kind of toy: a doll that resembled not a baby, but a grown woman — breasts, curves and all. Ruth and her family were on vacation in Switzerland in 1956 when they first encountered the Lilli doll; her 15-year-old daughter Barbara became enamored by her. Over the next three years, Ruth worked to create an American, child-friendly version of the Lilli doll. She debuted Barbie, named after her daughter Barbara, at the American International Toy Fair in New York City in 1959, and a new era of children's playthings was born.
Initial Controversy
Barbie was controversial even in the earlier years. When Ruth Handler pitched the concept of a doll modeled after a grown woman, rather than a baby, the executives at Mattel were dubious about its possibilities. Even Ruth's husband and business partner, Elliot Handler, didn't know what to make of a doll that had — gasp! — breasts. At the Toy Fair, buyers (who were largely older men) didn't grasp the possibilities of this new sort of doll. "For the most part, the doll was hated," a Mattel sales rep told Gerber. The doll's mature figure and the fact that kids could easily take off her clothes terrified male executives. Add to that the fact that Ruth wanted Barbie to be an independent woman with a whole host of careers, and it seemed clear, at the time, that the concept was doomed to fail.
But that summer, Barbie was picked up by a few smaller retailers, and mothers went wild for the dolls, snapping them up for their daughters. "The thing about Barbie was she was meant to be imagined into different situations and given different clothes to wear and given different stories," historian and journalist Amanda Foreman, Ph.D., told Glamour. "It really was radical." Ruth said at the time that she created Barbie, in part, to tell "the little girl [that she] could be anything she wanted to be."
Major Redesigns
In 1959, Ruth's first Barbie doll came in just one body type and hair color (though a brunette version was released later that same year). In the more than 60 years since she was first introduced to the American public, however, Barbie has been reimagined in a number of both minor and major ways to respond to changing social norms. For instance, in the years following the International Women's Strike in 1970, Mattel made a tiny but significant change to its iconic doll: they tilted her eyes to look straight ahead, shifting from a more demure, downward-cast gaze to a more direct, assertive stare. "Suddenly, she goes from being object to subject," Foreman told Glamour. "It's the development of a sui generis female gaze."
It would take two more decades for the next major development (aside from a Barbie with curl-able hair, of course): the first African-American Barbie, which debuted in 1980 (previous iterations of a Black Barbie essentially used the same features as the traditional white Barbie, but with darker skin, which caused its own uproar). Almost 20 more years would go by before the doll's oft-criticized proportions were amended to have a wider waist in 1997, a seemingly small adjustment that made a world of difference to both parents and children alike. Also in 1997, Mattel introduced "Share a Smile Becky," a doll that used a pink wheelchair. Then, in 2016, Mattel introduced its most inclusive range of body types yet, which included everything from "petite" to "tall" to "curvy" (of note: the curvier version of the doll features proportions that are the equivalent of a U.S. size 4 in clothing, but studies have shown that children still regard her as "fat").
Kim Culmone, who has been the vice president and head of design at Barbie since 2013, explained in Hulu documentary "Tiny Shoulders" that the changes had been a long time in the making, but took an incredible amount of effort to enact. "Door heights, bathtub sizes, bicycles — everything has to be adjusted," she says in the documentary. "I think a lot of people see the product on the shelf and think, 'Oh, just change it.' But it's a huge operational undertaking." Other considerations included whether or not the new body types can fit in Barbie's car or elevator.
Ken, Skipper, and the Rest of Barbie's Crew
When Ruth Handler initially came up with the idea for Barbie, she wanted the doll to be an independent woman who could be, essentially, anything or anyone she wanted to be. And to a certain extent, that hope has become a reality: over the years, Barbie has been everything from a surgeon, a TV news reporter, a vet, an Air Force pilot, a presidential candidate (6 times, to be exact), a baseball player, and an engineer, among other things. Which is why when Ken, Barbie's male counterpart, entered the picture in 1961, he was largely viewed as an afterthought, rather than a key player in Barbie's hot pink universe.
Skipper, Barbie's younger sister, was introduced several years later, in 1964, reportedly as a way to counteract claims that Barbie was created to be a sex symbol (Barbie would frequently have to babysit Skipper). Midge, Barbie's best friend, was created in 1963, for reportedly that very same reason. Ken, Skipper, and Midge all continue to be sold separately.
Special Collections
Because of Barbie's far-reaching pop culture influence, Mattel has created numerous limited edition collections that range from dolls created in the likeness of celebrities like actress Grace Kelly, director Ava DuVernay, and even country-singer couple Faith Hill and Tim McGraw, to dolls created specifically for miniature couture fashion, wearing everything from Oscar de la Renta to Givenchy. There are dolls commemorating anniversaries and dolls that wear designer bridal gowns; some special collector's edition Barbies are targeted for Star Wars fans, while still others are simply dressed to the nines for the holidays.
Whether you once owned one Barbie, or a dozen, or none at all, her enduring influence has made her a defining (and, yes, polarizing) figure for more than 60 years. In fact, in 2019, Mattel reported her brand awareness at 99% worldwide — not bad for a doll that stands just 11 and ½ inches tall.