Headline maker. Timeless beauty. Academy Award winner. Tireless activist. Savvy businesswoman. Global icon. These are only a few of the many phrases to describe Golden Age movie star Elizabeth Taylor
Born in London in February 1932 to American parents, Taylor and her family packed up and moved to the United States in 1939, where the actress soon began her film career. Taylor made her big-screen debut with a small role in 1942's There's One Born Every Minute but gained popularity after scoring the lead role as a horse-crazed girl in 1944's National Velvet.
Throughout her illustrious career, Taylor starred in more than 50 movies, and was never afraid to take a chance in both her personal and professional lives. "I feel very adventurous. There are so many doors to be opened, and I'm not afraid to look behind them," she once said.
Read below to learn how Taylor's life was as epic as the roles she played.
Taylor Had "Violet" Eyes and a Double Set of Eyelashes
In 1970, when Hollywood Reporter film critic Todd McCarthy first met Taylor, he was stopped in his tracks by "a pair of eyes unlike any I've ever beheld, before or since; deep violet eyes of a sort withheld from ordinary mortals."
However, while Taylor's eyes are typically credited as violet, they were more likely a deep blue with an uncommon amount of melanin in the irises, which made them appear violet when she wore  specific colors. This inspired her to often wear black eyeliner with blue, purple, or dark brown eyeshadow to bring out her trademark color.
Framing those famous eyes were Taylor's double row of eyelashes, known as distichiasis, the result of a mutation of FOXC2, a gene responsible for embryonic tissue development. While this heavy, second set of eyelashes can cause complications for some, they quickly became a notable part of Taylor's beauty at a young age. When she was filming Lassie Come Home (1943) at the age of 9, Taylor was accused of wearing too much mascara, and when production members tried to clean it off, they realized the dark shade was her own eyelashes. As Taylor's Lassie co-star Roddy McDowall remembered, "Who has double eyelashes except a girl who was absolutely born to be on the big screen?"
Taylor Was Married Eight Times
The star famously said "I do" eight times to seven different men: Conrad "Nicky" Hilton, Michael Wilding, Michael Todd, Eddie Fisher, Richard Burton (twice), John Warner, and Larry Fortensky.
While many of these marriages seemed out of a movie, it was her first wedding that was a direct part of a Hollywood production. In 1950, at the age of 18, Taylor — who had already been engaged twice before — wed hotel heir Hilton at the Church of the Good Shepherd in Beverly Hills. Taylor wore a $3,500 gown gifted by MGM as part of a promotional effort for her film Father of the Bride, which premiered the following year.  Designed by MGM's chief costume designer Helen Rose, the high-collared, long-sleeved gown was covered with pearls and with a 15-foot train. MGM added more movie magic by selecting studio stock players as Taylor's bridesmaids and set designers decorated the church. In attendance were 700 guests including Gene Kelly, Ginger Rogers, and Fred Astaire, and waiting outside were 3,000 cheering fans. Lauded as the social event of the year, MGM boasted that at the wedding were "more stars than there are in heaven." No matter the fairy-tale event, the tumultuous marriage lasted less than nine months.
Taylor Was the First Actress To Earn $1 Million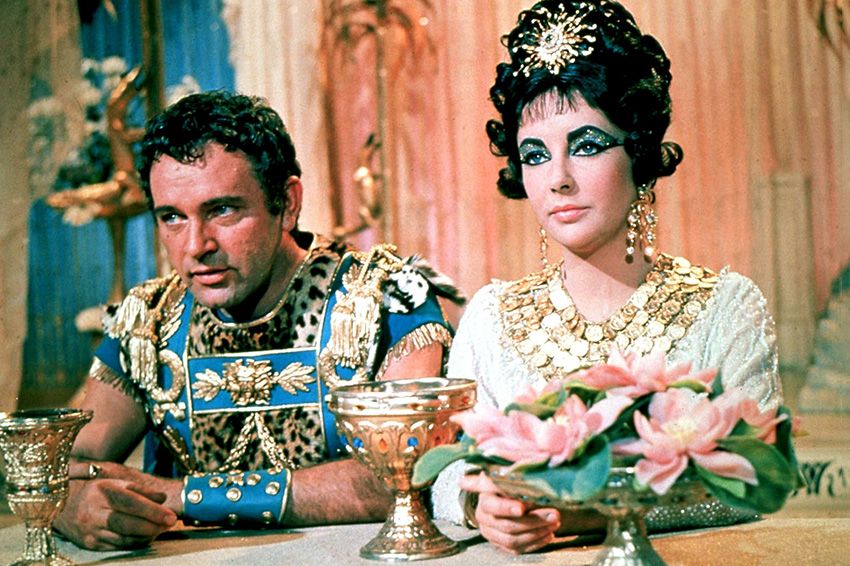 Taylor was the first actress to earn more than $1 million for a single movie, for 1963's Cleopatra. When the movie was first planned, her $1 million salary was half of the original budget. As the film's budget boomed to $31 million, Taylor's paycheck did as well — to $7 million (around $54 million in 2022).
From her youth, Taylor had been a bold negotiator and wasn't afraid to ask for what she was worth or to end a negotiation that wasn't going her way. Originally, she had little interest in starring in Cleopatra, which inspired her bold pay request of $1 million and 10% of the box office gross, thinking there was no chance 20th Century Fox would agree to her terms. To everyone's surprise, they did. As she would later say, "If someone is dumb enough to offer me a million dollars to make a picture, I'm certainly not dumb enough to turn it down."
Taylor Popularized Celebrity Perfumes
When Taylor's debut fragrance, Passion, hit shelves in 1987, it was not the first celebrity fragrance — but it was the start of the first celebrity perfume franchise in a line ultimately made up of 16 perfumes.
Her most popular scent, White Diamonds, generated more than $1.5 billion in the 25 years after it appeared on the market in 1991. With a $20 million marketing budget, White Diamonds was launched with a cross-country tour, lavish magazine ads, and a cinematic black-and-white commercial that aired both on television and in movie theaters. Featuring Taylor at a high-stakes poker game where she tosses one of her diamond earrings into the pot, the actress improvised the now-iconic line: "These have always brought me luck."
Taylor's a Dame
One of the most legendary stars of Hollywood's Golden Age, Taylor was nominated for four Academy Awards, won two — for Butterfield 8 and Who's Afraid of Virginia Wolf — and ranks as the seventh-greatest female American screen legend by the American Film Institute.
Her star power was felt across the pond in her native U.K. and in 2000, the actress was designated Dame Commander of the Order of the British Empire (DBE) by Queen Elizabeth II. Considering it one of the great honors of her life, Taylor humorously said of the event, ​​"Well, I've always been a 'broad.' Now it's a great honor to be a dame!"
Taylor's Jewelry Collection Was Worth More Than $100 million
Tayor loved jewelry and had a deep knowledge of the pieces in her collection. Despite W magazine naming her collection the third-most important in the world, as she once explained, "I've never thought of my jewelry as trophies. I'm here to take care of it and to love it, for we are only temporary custodians of beauty."
The icon passed away in March 2011, age 79, from congestive heart failure. Her famed jewels were auctioned by Christie's that same year for $115.9 million and broke the record for the most valuable private collection of jewels sold, with 26 pieces selling for more than $1 million and six for more than $5 million.
Many of the pieces were given to Taylor by her seven husbands. Among the record-breaking highlights was Taylor's 19th-century tiara given to her by third husband, Mike Todd. The sparkling headpiece was worn several times in 1957 and became a cherished object to herafter his fatal plane crash in 1958. Additionally, Taylor's Cartier pearl necklace, named La Peregrina, sold for more than $11 million, setting the record for the most valuable pearl sold at auction at that time. Given to her as a Valentine's Day gift by her most legendary love, Richard Burton, the 1-inch long natural pearl is one of the world's most famous, once belonging to Spanish monarchs and appearing in portraits by Peter Paul Rubens and Diego Velázquez.