When The Flintstones premiered on ABC in 1960, New York Times critic Jack Gould derided the show as "an inked disaster" and Jackie Gleason considered suing, contending the primetime cartoon experiment was a Honeymooners copycat set in 10,000 BC. Still, fans grew attached to Fred, Wilma, Barney, and Betty — at least until the introduction of The Great Gazoo, a green alien meant to lay the groundwork for Hannah-Barbera's next unconventional family sitcom, The Jetsons. With iconic friendships, a theme song earworm, and countless ancient/modern mash-ups, here's how the show chiseled its way into our collective conscience.
The Partnership Between William Hannah and Joseph Barbera
William Hannah and Joseph Barbera met when they were in their late 20s, as new hires in MGM's fledgling animation department. Discovering that they shared similar comic sensibilities, they teamed up on 15 years of Tom and Jerry antics, earning two Oscar nominations for Best Short Subject, Cartoons. When MGM shuttered its animation department in 1957, the duo — intent on segueing into television — formed Hannah-Barbera Productions, and created the first animated half-hour series, The Huckleberry Hound Show. To save time and money, the pair pioneered "limited animation," which basically presented a series of storyboard drawings, linked by small movements like bobbing heads and talking lips. The president of distributor Screen Gems asked Hannah and Barbera if they wanted to collaborate on a primetime television cartoon — even though standalone cartoons had only been successful thus far as morning or afternoon kids' programming. They accepted the challenge.
Masterminding the Series
To engineer a hit with the viewership potential of Father Knows Best or Leave It to Beaver, Hannah-Barbera decided to focus their show on a suburban family — with some sort of unique twist. They brainstormed central characters who were Romans, Indigenous People, pilgrims, Appalachian people, and nomads. Then, animator Dan Gordon doodled two cavemen dressed in animal skins. His figures flanked a record player that had a live bird's beak as its needle. Character designer Ed Benedict tried to add more features present in early humans, but at Barbera's urging, he made the physiques more refined, even giving Wilma a stone necklace that resembled oversized pearls. The series was named after the primary caveman couple, then named The Flagstones.
Finding a Network
A 90-second pilot for The Flagstones was filmed in 1959. Toting the footage and storyboards, Barbera traveled to New York City for two months of dismal pitch meetings with networks and sponsors. Finally, on the last day of his trip, ABC greenlit the show for a 28-episode first season. However, the daily comic strip Hi and Lois already had a family called the Flagstons; The Gladstones served as a placeholder title until the parties arrived at The Flintstones. Decades later, in 1994, Cartoon Network aired The Flagstones pilot after it was recovered from a New York storage facility. Father Knows Best veteran Jean Vander Pyl (Wilma) was the only actor to lend her voice to both the pilot and the eventual series.
Casting the Ultimate Period Piece
Character actor Alan Reed won the role of Fred. A year after The Flintstones debuted, Reed played Sally Tomato — the mob boss who welcomes Holly Golightly for weekly prison visits — in Breakfast at Tiffany's. Once, when asked to say, "Yahoo!" in Fred's voice, Reed ad-libbed a replacement that became the character's signature. "Yabba dabba do!" was inspired by the 1950s jingle for men's hair product, Brylcreem ("A little dab'll do ya"). Meanwhile, the original voice of Bugs Bunny, Daffy Duck, and Porky Pig and scores of other Looney Tunes characters, Mel Blanc, was hired to play Fred's best friend and next-door neighbor, Barney Rubble. The animation legend picked up a second recurring part on the Stone Age series, supplying the barks for the Flintstones' pet dinosaur, Dino.
In 1961, Blanc survived a head-on car crash but spent two weeks in a coma and 70 days in the hospital. During this period, Barney was voiced by Daws Butler, the performer who voiced Fred in The Flagstones pilot, as well as Huckleberry Hound and Yogi Bear on The Huckleberry Hound Show. Upon Blanc's release, he was temporarily confined to a body cast, and series recording sessions relocated to his home for about 40 episodes. Rounding out the core cast was Bea Benaderet, who had been Lucille Ball's first choice to play Ethel on I Love Lucy. For four seasons, Benaderet took on The Flintstones' second female lead, Betty Rubble, until she exited to star in Petticoat Junction. Geraldine "Gerry" Johnson portrayed Betty for the remaining seasons.
A Lasting Cultural Impact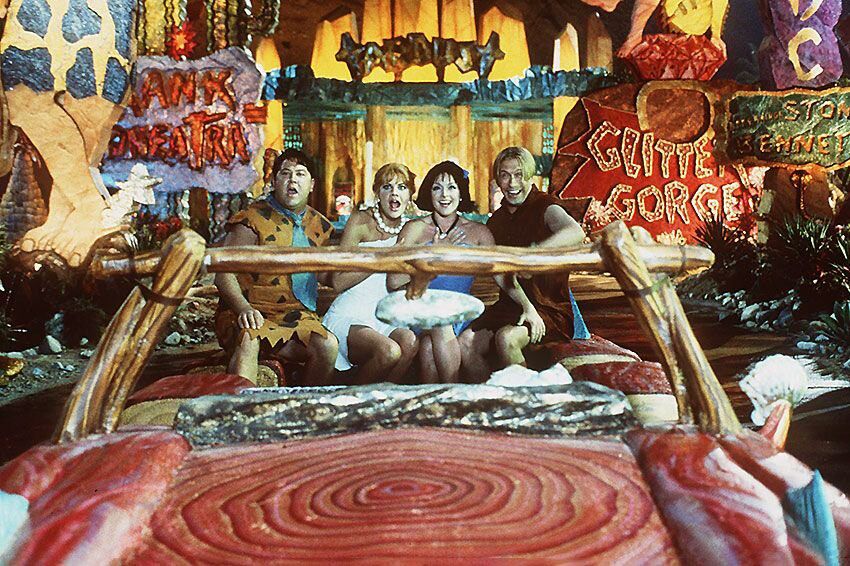 Over the course of six seasons and 166 episodes, The Flintstones carved out a formidable TV legacy. The show was the premiere 30-minute animated sitcom, as well as the first cartoon ever nominated for Outstanding Comedy Series at the Primetime Emmys — an honor The Simpsons has never even achieved.
Despite its laugh track, The Flintstones embarked on nuanced storylines in its middle seasons about routes to parenthood. After Fred and Wilma became U.S. television's first animated couple to sleep in the same bed, nine episodes were devoted to Wilma's pregnancy with their daughter, Pebbles. During the following season, with Barney and Betty, the series acknowledged the plight of infertility, a rarely addressed topic on screen or in society at the time. The Rubbles eventually adopted a son, Bamm-Bamm. The Flintstones proved that there was a grown-up audience for animation, emboldening future TV creators to tackle mature themes such as parental abandonment (The Simpsons), politics (South Park), mortality (Archer), and mental illness (Bojack Horseman) — to great critical acclaim.
Additionally, The Flintstones was an early satirist of TV tropes and celebrity culture that helped establish the practice of famous guest stars doing cameos as themselves. Ann-Margret, Ed Sullivan, Tony Curtis, Rock Hudson, and Cary Grant were among the prominent personalities that entered Bedrock. The show also gave rise to numerous TV spin-offs, two live-action films, and millions of brontosaurus cranes worth of merchandise sales, ranging from Fruity Pebbles cereal to Flintstones Vitamins. After a robust second life in syndication, The Flintstones recently found a new home on HBO Max.