Flowers have their own distinct language. You wouldn't send a dozen red roses to your boss, for example, or a basket of cheerful sunflowers to a grieving family member. But why? The meanings we attach to floral arrangements today likely hinge on influence from the Victorian era, when gardeners and florists helped bashful beaus and coy socialites send coded messages back and forth, all hidden within the blooms themselves. In fact, floral messaging became so popular in the 19th century that flower dictionaries were published to help both the sender and the receiver communicate entirely through floriography. These days, bouquets and cut flowers are selected more for their appearance than for their meaning, though some flowers are still siloed into specific uses. Here are the secret meanings of well-known buds, and why you might see them used in certain situations.
Tulips
Tulips are one of the official heralds of spring, ushering in warmer weather and longer days. But these delicate, single-stemmed buds also represent romantic devotion, making them a perfect selection for anniversaries and other relationship milestones. Altering the color also affects their meaning; yellow tulips can be a cheerful offering to a friend, while white tulips are fitting for apologies. (Fun fact: Tulips, which originated in Persia and Turkey, were momentarily a hot commodity in the 17th century, when Dutch traders invested in them and created a short-lived "tulip mania" that sent the price of the bulbs skyrocketing.)
Chrysanthemums
Mums are often a supporting flower in large arrangements, thanks in part to their long lifespan — they've been known to survive two weeks or more after other buds have faded. That could also be why these circular florets with countless small petals are a sign of optimism, excitement, and happiness. It's common, for example, to make chrysanthemums the centerpiece of cut flower arrangements sent to new parents, graduates, or a friend who landed a new job. Mums bloom after the start of cooler weather, which explains their popularity in fall decor, but with 13 main varieties in almost every color and size, it's easy to purchase a bouquet year-round. (After all, chrysanthemums are the largest commercially grown flower in the United States.)
Calla Lilies
Not many flowers can pull double-duty for both happy and sad occasions, but calla lilies are a multipurpose standout. Representing rebirth and new beginnings, these smooth, single-budded flowers often take center stage in wedding bouquets (to mark a couple's new life together) and funeral arrangements (to signify a spiritual life after death). White calla lilies are popular for both occasions, though the South African natives also come in shades of purple, yellow, and orange. Despite their name, calla lilies aren't actually lilies — they lack the required six-petals that true lilies have. Even so, their distinctive shape has made them an iconic, upscale choice.
Sunflowers
Bright, cheerful sunflowers can offer a pick-me-up to a friend going through hard times, or a thank you to an employee who's gone the extra mile. These giant-sized blossoms are symbols of loyalty, adoration, and faithfulness, making them a versatile flower that says "I believe in you" or "thanks for everything." While sunflowers appear to be one large bud, look closely and you'll find that each head is actually made up of thousands of smaller flowers. (Some sunflowers have as many as 4,000 smaller florets!)
Roses and Baby's Breath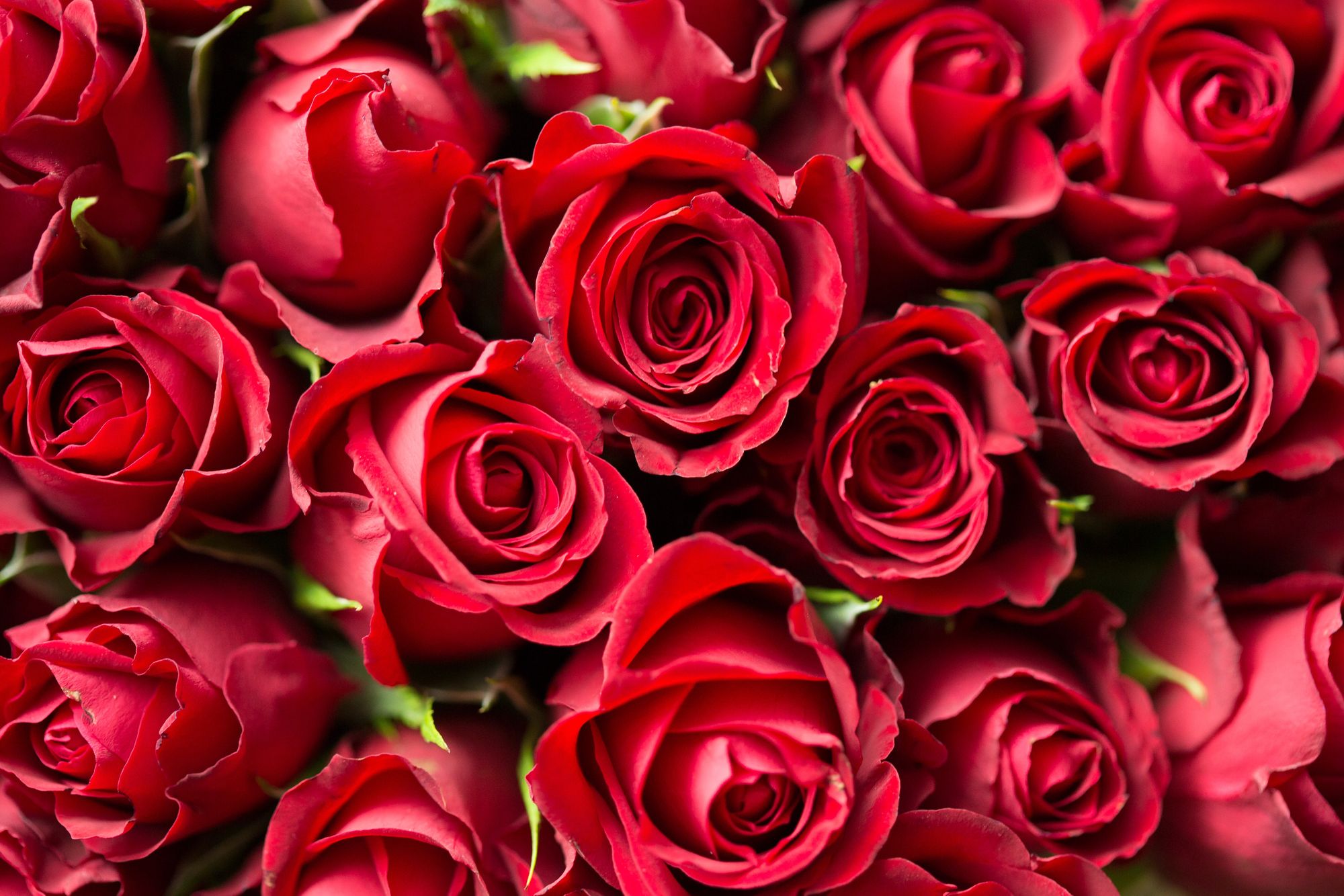 Roses are iconic; they practically define Valentine's Day as the ultimate symbol of love. And when paired with "innocent" gypsophila — those white, brushy flowers also known as baby's breath — a bouquet of them can represent everlasting love. Roses of all colors are common in wedding bouquets to represent a couple's affection, and some florists will include baby's breath to signal hope for future children — or just as a cheap bouquet filler with no extra meaning. Want to send roses but don't have romantic love in mind? Pink roses represent tenderness, white roses signal new beginnings, peach roses are for support, and yellow roses are traditionally sent to friends.
Alstroemeria
Also known as Peruvian lilies, these six-petaled blossoms are often called "friendship flowers." Each petal is given its own meaning — patience, understanding, empathy, commitment, humor, and respect — and when paired with different colors (such as white for love or yellow for happiness), these tiny lilies can represent the bond between two friends or committed couples. Alstroemeria are long-lasting cut flowers and have no scent, which means they'll be an ongoing reminder of the sender for nearly two weeks without any overbearing smell.
Gladiolus
The lengthy, bud-filled stalks of gladiolus are commonly featured in funeral arrangements to convey remembrance. Nicknamed "sword lilies" to reflect their Latin name (which means "sword"), gladiolus come in a rainbow of colors, including pink, green, and burgundy. While they're a go-to selection for memorials, they also are easy to grow for enjoyment on happier occasions. Bulbs are planted in the spring and bloom in around 60 to 90 days, making the homegrown buds easy to add to your own arrangements.
Daisies
Daisies are the birth flower for those born in April, and rightly so — these warmth-loving blooms first appear at spring's start. They represent transformation and innocence, making them particularly apt for celebrating new parents or childhood milestones. Their simple, cheerful appearance also makes daisies the perfect selection for sending well wishes and congratulations to a friend. It's believed daisies get their modern name from the Old English "day's eye," thanks to the way the petals close after dark and reopen with the morning sun.
Peonies
The soft, ruffled petals of peonies represent compassion, good luck, and prosperity, which is why it's not unusual to see these delicate blooms in hospital recovery rooms and bedside arrangements. Like many flowers, peonies also have become a favorite in commitment ceremony bouquets, where they can additionally symbolize love, respect, and hope for the future. Known as the"queen of flowers," peonies originated in China, where the National Peony Garden in Luoyang features a month-long festival to celebrate the lofty poseys each spring.
Carnations
Inexpensive carnations don't get enough respect, having the reputation of being cheap flowers. But these hard-working pompons are appropriate for almost every occasion, especially those that honor a person, as they symbolize admiration, distinction, and gratitude. Carnations are often featured in memorial services, gifted to moms on Mother's Day (a tradition as old as the holiday itself), and used in graduation ceremonies. They can take on any special meaning you choose to give them — after all, sending flowers is itself a message that you're thinking about someone special.