If you're looking for gift inspiration for a history hound, there's only one thing to do: Go back in time. We're talking way back. From the past century to the Ancient Romans, we've got 10 amazing gifts for history buffs of any era.
We all know a lot more about the "10 dollar Founding Father without a father," aka Alexander Hamilton, thanks to Lin-Manuel Miranda's smash Broadway musical. But Miranda never would have brought Hamilton's life story to the stage without this seminal biography from Pulitzer Prize winner Ron Chernow. Get the full story about Hamilton, Eliza, Burr, and more, including many facts you won't find in the musical — like how Eliza Hamilton also founded the first school in Washington Heights, which, coincidentally, was the setting of Miranda's first musical, In The Heights!
Never mind reading about history — how about living it? This top-rated, two-player board game pits you and your opponent (one as the U.S. and the other as the Soviet Union) against each other during the peak of the Cold War. Just like the actual Cold War, expect the tension to be turned up to the nth degree. As one review says: "It feels like every single move you do is the most important decision you're making." Spanning 45 years of history in under four hours, it's the perfect way to spend a quiet, quarantined afternoon.
Think of this custom coffee table book like a time machine. Simply pick the birthday of your loved one, and they'll receive a book beautifully laid out with the front page of The New York Times on the day of their birth and each year thereafter (there are front pages dating back to 1910). This one-of-a-kind keepsake makes a particularly great gift for a senior who's ready to take a serious trip down memory lane.
Finally, the perfect gift for that history buff who's also your favorite foodie. This amazing book delves into the origins of 100 favorite foods we eat every day, from sandwiches to cupcakes. It includes actual recipes so you can try your hand at making historical meal while also covering plenty of other trivia-worthy aspects of the culinary arts, from the first cookbook (published in ancient Rome!) to the earliest TV chefs (like Philip Harben, the first chef to have his own TV show).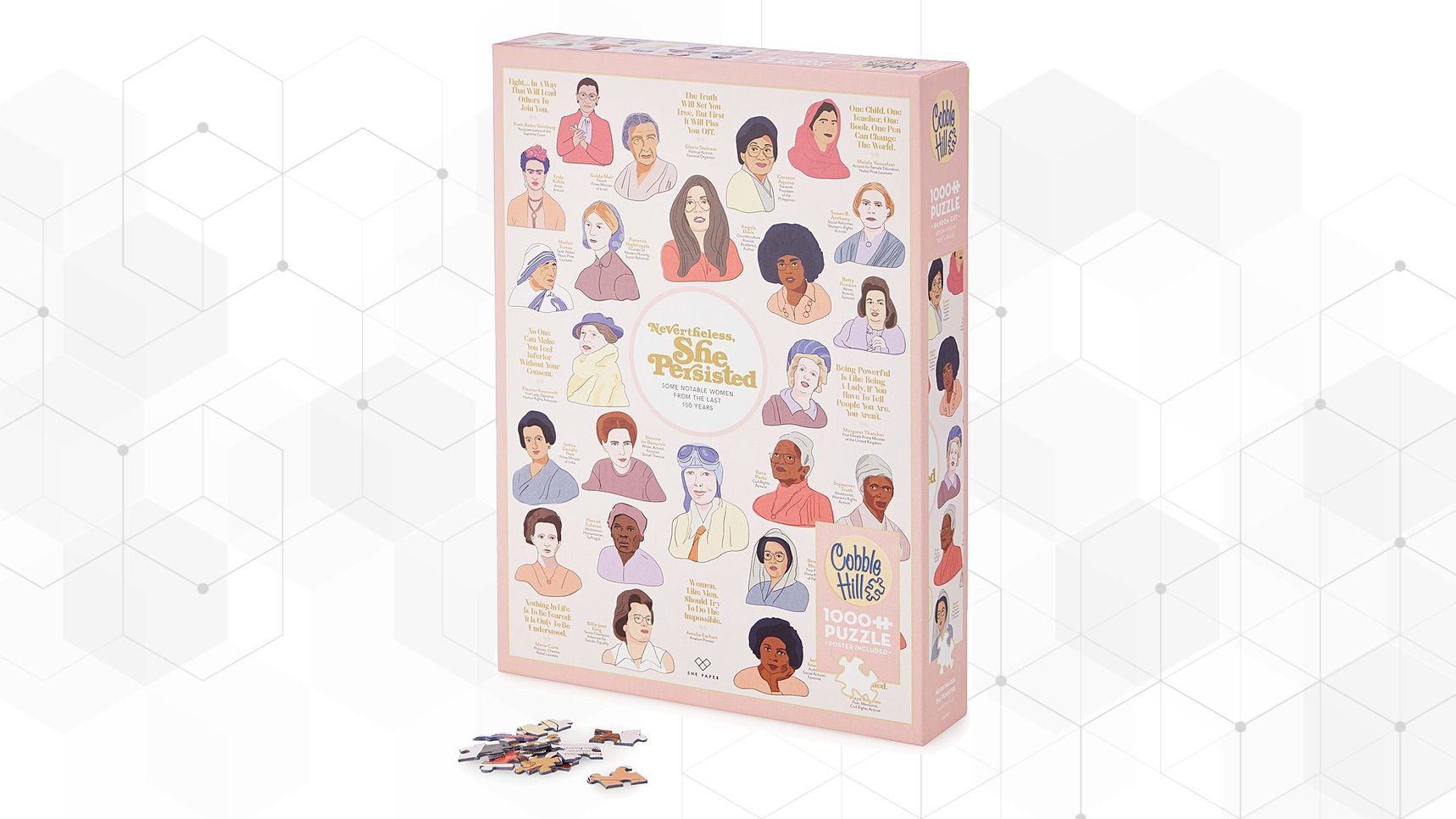 Celebrate "her-story" with this fun and challenging puzzle. Featuring over 20 important female figures in history, you can double down on challenging your brain by reading up on what these incredible women accomplished, like Simone de Beauvoir, one of the founders of contemporary philosophical feminism. The 1000-piece size makes it a great pick for puzzle mavens of any age, from tweens to adults to seniors.
Start every day off with a little slice of history. Every page of this daily calendar is filled with a recap of a significant historical event that happened on that day (like January 9, 1493, when Christopher Columbus reported that he saw three mermaids in the waters near present-day Dominican Republic — spoiler: they were manatees). The price point makes it an awesome pick for a stocking stuffer or Secret Santa gift swap, while the time-spanning trivia will give you a year's worth of conversation starters.
This stylish slice of history is a subtle way for any history geek to feel connected to America's founders. Modeled after a pair of Washington's actual cufflinks on display at Mount Vernon, this set of 22k gold plated cufflinks were made with old-school techniques, using hand-applied French enamel that was then fired in a kiln up to 10 times for a durable finish that will genuinely stand the test of time.
Bring a little history to your next gathering with this fun, timeline-based game. The challenge is deceptively simple: Organize the event cards in chronological order from the oldest to the most recent. While it might seem obvious to order the "First Solo Flight Across the Atlantic Ocean by a Female Pilot" before the "Invention of the Mobile Phone," the more hands you collect, the more challenging the game becomes. Finally your favorite history nerd will get to reign supreme on game night!
Raise a teacup to history and settle in for a cozy night with this inspired gift. Packed in a vintage-inspired crate box, inside you'll find six historical teas that match what the revolutionaries of America threw overboard during the Boston Tea Party in 1773. How do the tea makers know they've got the right brews? John Adams actually documented the varieties of tea in his diary! You definitely won't want to throw them overboard.
They'll have the time of their lives delving into a miniature model of one of Leonardo Da Vinci's legendary inventions — and have a cool keepsake to boot. Da Vinci of course, was the mastermind behind many game-changing inventions that have an impact on us to this day, from the self-propelled cart (an early car prototype) to the parachute. Tackle physics, history, and art all in one little gift — if they love it, there are other miniature Da Vinci models to stock up on too!
---
All featured products and deals are selected independently and objectively by the author. Trivia Genius may receive a share of sales via affiliate links in content.

Featured image credit: Pixabay/ Pexels