It's hard to believe that it's been 25 years since Murder, She Wrote ended its 12-year run on May 19, 1996, and mystery writer and amateur sleuth Jessica Fletcher (mostly) disappeared from our lives. A quarter of a century later, the fictional fishing village of Cabot Cove still holds a special place in many hearts, so let's revisit it with some facts about the show that you might not know. But watch your back, and remember — everyone's a suspect.
Angela Lansbury Wasn't the First Choice for Jessica Fletcher
It's nearly impossible to imagine anyone but Angela Lansbury playing Jessica Fletcher, but she wasn't a shoo-in for the job. Doris Day turned it down; Jean Stapleton (aka Edith Bunker) also declined, partly because she didn't feel ready to jump into another series so soon after wrapping up the 1970s sitcom All in the Family. "Every time I saw Angela during those years, she'd say, 'Thank you, Jean,'" Stapleton once said.
Jessica's Middle Name Was a Nod to Lansbury's Real-Life BFF
Before landing Murder, She Wrote, Angela Lansbury was perhaps best known for her Broadway prowess. After costarring with Bea Arthur in the musical Mame in 1965, the two actresses became very close. Lansbury has said that Arthur was "a rare and unique performer and a dear, dear friend." Jessica Fletcher's middle name, Beatrice, pays homage to their real-life friendship.
One Fan Theory Suggests Jessica Was the Real Culprit
If you think the murder rate in Cabot Cove seems suspiciously high for such a sleepy little town, you're not alone. A popular fan theory suggests that there was a more sinister reason Jessica was always so quick to every scene. And how did her husband die, anyway? To accept this theory, you have to view Jessica as an "unreliable narrator" — the idea is that when the killers "confess" at the end of every show, it's really Jessica turning each of her escapades into a story to further her writing career.
Lansbury Never Won an Emmy for "Murder, She Wrote"
The extraordinarily talented Lansbury has been nominated for a total of 17 Emmys, including one for every season of Murder. She never won, though, making the elusive Emmy the only part of the EGOT (the Emmy, Grammy, Oscar, and Tony Awards) she doesn't have. "It bothers the hell out of me," she has said. (She was, however, honored in the Emmy Hall of Fame in 1996; her 2013 Oscar is also honorary.)
A Remake Starring Octavia Spencer Almost Happened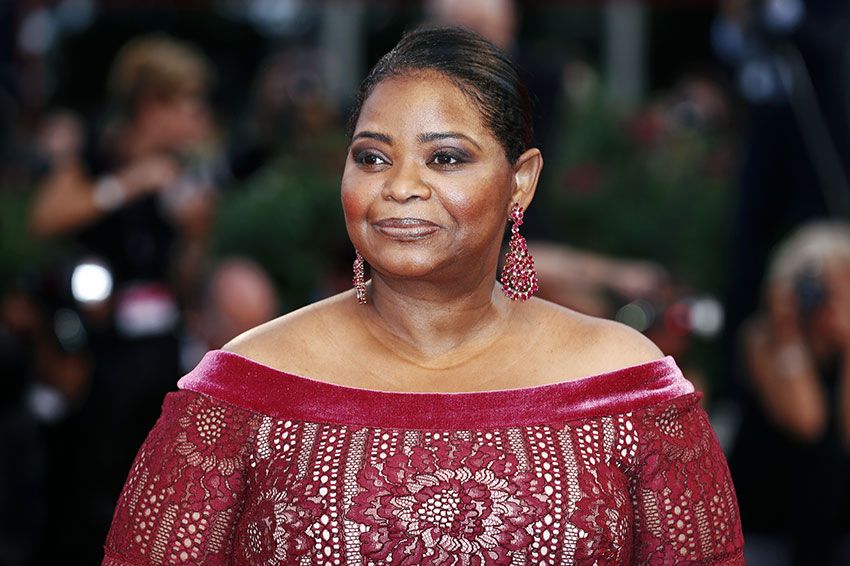 In 2013, Octavia Spencer was slated to take the lead role in a reboot that would have aired on NBC. Described as a "light and contemporary take," it focused on a hospital administrator who publishes her first mystery novel and then starts solving crimes. Lansbury was skeptical, saying, "I think it's a mistake to call it Murder, She Wrote, because Murder, She Wrote will always be about Cabot Cove and this wonderful little group of people who told those lovely stories and enjoyed a piece of that place, and also enjoyed Jessica Fletcher, who is a rare and very individual kind of person. … So I'm sorry that they have to use the title Murder, She Wrote, even though they have access to it and it's their right." The reboot was cancelled in 2014.
There Was a Very Special Crossover Episode
Any criminal would be a fool to try to pull something off with both Thomas Magnum and Jessica Fletcher on the case, but that's exactly what happened in this third-season television event featuring Jessica in Hawaii. The first part ("Novel Connection") aired during Magnum P.I.'s time slot, with the story concluding in an episode called "Magnum on Ice" during Murder's Sunday-night airing.
Lansbury Identifies With Fletcher the Most Out of All Her Roles
"The closest I came to playing myself … was really as Jessica Fletcher," she told Parade magazine in 2018. "Obviously, if I had been able to do that earlier in my career, I would have had a different career really."
However, in 1985  — a year after the show began — she also told The New York Times: "Jessica has extreme sincerity, compassion, extraordinary intuition. I'm not like her. My imagination runs riot. I'm not a pragmatist. Jessica is.''
CBS Pulled the Plug on "Murder" Rather Unceremoniously
In 1995, the network switched Murder from its long-standing Sunday-night spot to run directly against NBC's Friends in the Thursday-night "Must See TV" lineup. The move dropped Lansbury and co. from the top 20 in the Nielsen ratings to No. 67, and CBS bid them adieu. "Murder most foul," the Washington Post declared the schedule change and cancellation.
The Final Episode Made a Point
Titled "Death by Demographics," the finale was set at a San Francisco radio station changing from classical to rock against their will. "You realize we're going to lose our entire audience," the son of the station owner says. "Yes, and replace it with 12-to-18-year-olds, the ones who spend serious money on new products and new ideas, and the ones that advertisers pay big bucks to reach," responds a producer. The implication was clear — Murder had been killed because it couldn't reach the youth market when it went up against Friends.
It wasn't the only time during the season that the Murder writers thumbed their noses at CBS. There was also an episode called "Murder Among Friends," in which the producer of a hit TV show called Buds is killed right before a big cast change.