There's only one place where sunny days have been sweeping the clouds away for more than 50 years: Sesame Street. What started as a way to educate preschool-age kids who might not have the means to receive schooling has turned into one of the most beloved American cultural institutions, heralded with iconic characters such as Big Bird, Cookie Monster, Kermit the Frog, Grover, Elmo, Oscar the Grouch, Bert, and Ernie. Premiering on November 10, 1969, the show — which aired on PBS, and since 2016 on HBO and then HBO Max — continues to both entertain and educate new generations of children and remains a nostalgic favorite for adults of all ages. Here are some fun facts you may not know about the children's television show.
The Show Idea Started at a Dinner Party
A producer at New York City's Channel 13 public television station, Joan Ganz Cooney, was hosting a dinner party in 1966 when she chatted up Lloyd Morrisett, a Carnegie Corporation educator. He told her that one morning he found his 3-year-old staring at the television's test pattern, waiting for something to begin. They started discussing whether there was any way for young minds to learn from the medium, and thus the entire concept of educational television — and Sesame Street — was born. It was first described as a preschool for those who couldn't afford to attend.
The Original Name Was "123 Avenue B"
While names like The Video Classroom and Fun Street were tossed around, the most serious contender was 123 Avenue B, since it fit the vibe of the inner city set of the show. But the name was abandoned because it was an actual street address — and also because there was concern that those outside of New York City may not relate. The show's writer Virginia Schone came up with the name Sesame Street, though it wasn't immediately embraced, as many worried it would be hard for young kids to pronounce. After a weekend of brainstorming and no better options, it became the official title. "We went with it because it was the least bad title," Cooney told Sesame Workshop.
"Rubber Duckie" Was a Billboard Hit Song
Of all the catchy and memorable songs on the show, the only one to ever become a certified Billboard hit was "Rubber Duckie," which was on the Hot 100 for seven weeks in 1970, topping out at No. 16. The tune was performed by Jim Henson himself, in character as Ernie — and was also nominated for a Grammy for Best Recording for Children that year. Little Richard covered the song in 1994, and an all-star version for National Rubber Duckie Day, featuring Tori Kelly, James Corden, Sia, Jason Derulo, Daveed Diggs, and Anthony Mackie, was released in 2018.
Cookie Monster Can Only Sing Five Notes
Not only is "C" standing for cookie good enough for Cookie Monster, so is a five-note singing range. While he was never shy about showing off his vocals, Cookie Monster's range has always been limited. (Thus, you rarely hear a Cookie-fronted ballad!) "If Grover and Cookie are singing a duet, the whole thing sounds like 'arrggh,'" the show's musical director, Bill Sherman, said in 2019, mimicking the sounds of the monster's gargling. "Sometimes that really works."
Snuffleupagus Remained Imaginary for 14 Years
Big Bird first mentioned his imaginary friend Snuffleupagus — or Snuffy for short — in a 1971 episode. But for more than a decade, he remained a mystery, seemingly just a figment of the bird's imagination. However, in 1985, as child abuse cases started dominating the news, producers decided it was essential to teach children that when they talk to adults, they will be believed. So on the 17th season premiere of the show, the elephant-like brown Pachyderm showed up in person to help Big Bird water flowers with his trunk.
Big Bird Towers Over Everyone at 8-foot-2
Many of the smaller Muppets — including Ernie, Cookie Monster, Telly, and Oscar the Grouch — take two puppeteers to bring to life. But the big yellow bird takes only one, which is shocking because not only is he the tallest character, but his costume consists of around 4,000 feathers. He also has tall cousins around the world with different colored feathers, including blue Garibaldo from Brazil, orange Pourpas from Portugal, and light blue Pino from the Netherlands.
Bert's Bottle Cap Obsession Runs Deep
Bert reportedly has more than 368 bottle caps in his collection and talked about his love for them at San Diego Comic-Con in 2014. "I love comic books. But mostly, I love bottle caps. Bottle caps and pigeons," he said. "You gotta go to the whole bottle cap convention. Bot-Con." But pal Murray Monster kindly jumped in and corrected him that it would be "Bot-Cap-Con."
Oscar the Grouch and Big Bird Were Played By the Same Actor
Caroll Spinney played both the trash can-inhabiting curmudgeon Oscar and the oversized nest-sleeping innocent Big Bird since the show's beginning in 1969. Sadly, he passed in 2019 from dystonia, which causes muscular spasms. The 5-foot-10 performer with a passion for puppeteering loved stepping into the giant canary costume as well as controlling the green grouch. "I think most people completely forget what it was like being a kid by the time they grow up," he said in 1982. "But I never got over it."
Kermit the Frog Was Originally Made Out of a Coat
The very first rendition of Kermit had more of a lizard-like feel and was made by Henson back in 1955 for the five-minute program Sam and Friends, which aired on a Washington, D.C., affiliate station. He was stitched together out of Henson's mother's old spring coat and pieces of Henson's own jeans — with the bug-eyes predictably made of ping pong balls. Later, he got a more saturated green hue and more frog-like features. Though not currently on display, the original Kermit is part of the National Museum of American History's collection.
James Earl Jones Was the First Celebrity to Visit the Show
Hundreds of celebrities have made their way to Sesame Street over the years, but the first one was James Earl Jones back in 1969. Jones read the entire alphabet without any musical accompaniment, pausing between each letter for kids to either repeat the previous letter or guess the next one. His effective delivery became known as the "James Earl Jones Effect." Over the years, other famous visitors have included Michelle Obama, Buzz Aldrin, Patti LaBelle, Adam Sandler, Halle Berry, Robin Williams, Billy Joel, Lupita Nyong'o, Lin-Manuel Miranda, Nick Jonas, One Direction, Neil Patrick Harris, *NSYNC, Backstreet Boys, and Zac Efron.
The Show Has Long Tackled Difficult Topics
Sesame Street has never shied away from challenging topics that kids are likely hearing about, but not necessarily addressing head-on. One of the earliest episodes that discussed a difficult topic was in 1983, when actor Will Lee passed away and the show openly acknowledged the death of his character, Mr. Hooper. In 1990, a race-relation initiative was started when Whoopi Goldberg and Elmo compared their skin colors. After the 9/11 tragedy, a series of special episodes were created and recent specials focused on the pandemic and racial justice movements. Other topics the show has addressed include the HIV/AIDS crisis, incarcerated parents, Afghan gender equality, and autism.
There Is an Actual Sesame Street in Manhattan Now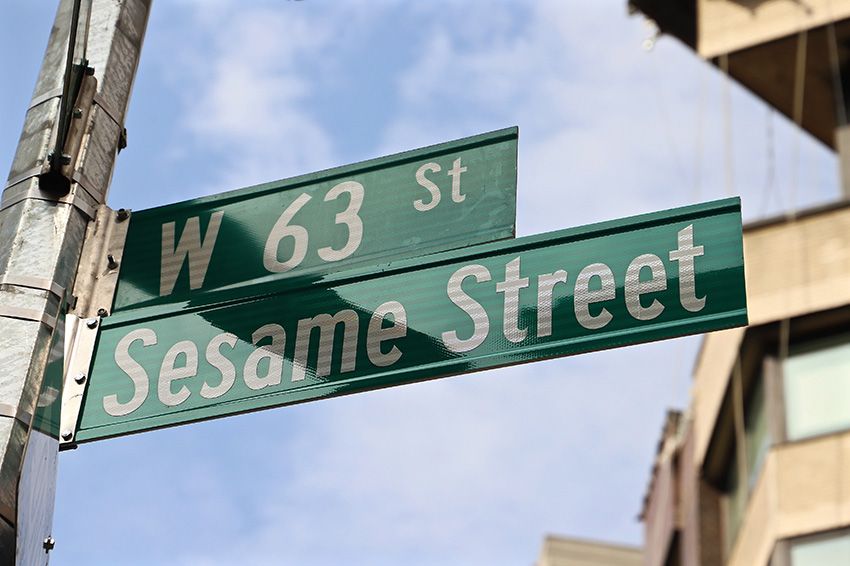 While the question was always asked, there wasn't always an answer about how to get to Sesame Street — that is, until 2019. To celebrate the show's 50th anniversary, New York City revealed that the intersection of West 63rd Street and Broadway — where the show's headquarters have always been located — would now be called Sesame Street, complete with a green and white street sign. "Fifty years of extraordinary programming, 50 years of making people's lives better, 50 years of helping children believe in themselves," Mayor Bill de Blasio said at the dedication ceremony.