The Super Bowl halftime show is known for massive spectacles featuring the biggest names in music — Prince, Bruce Springsteen, Beyoncé, Madonna — along with legions of dancers, elaborate costuming, massive light shows, and many-tiered, custom sets. But in the early years of the Super Bowl, before U2 and Missy Elliott were as big a draw as the game itself, the halftime shows were relatively modest affairs featuring local marching bands, folksy dance numbers, and performances by an Elvis impersonator and Carol Channing. Read on for a brief history of the much-evolved Super Bowl halftime show — a paragon of American sports and entertainment.
The Early Days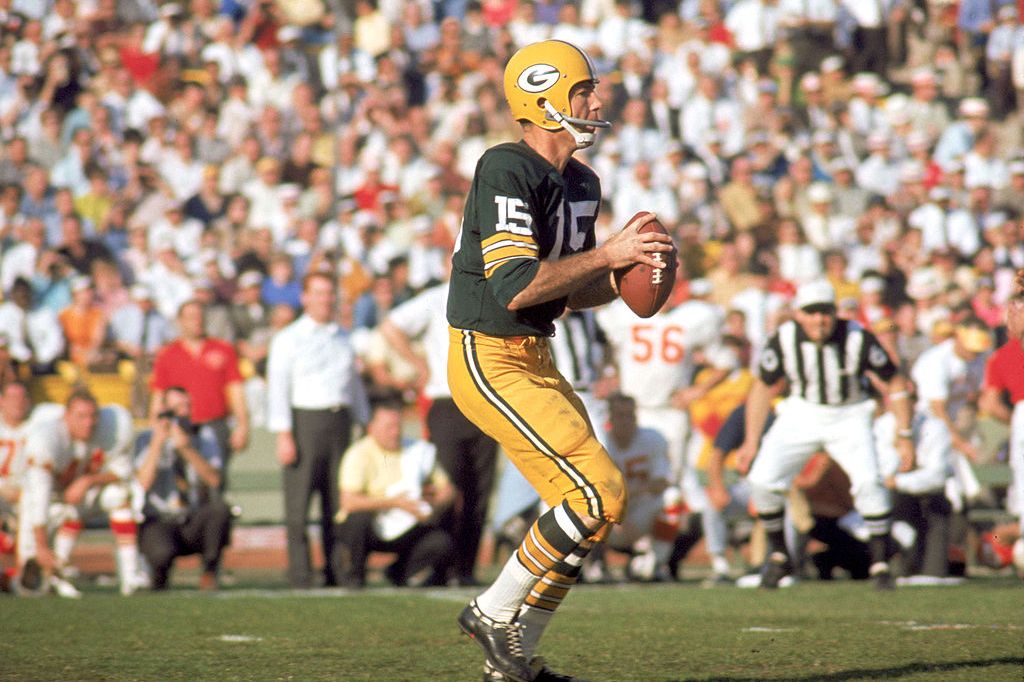 Early Super Bowls weren't necessarily must-watch cultural touchstones. In fact, many college football games were considered more prestigious, making them a bigger draw for fans and press.
To wit: At the first Super Bowl, held in 1967 in Los Angeles, tickets sold for around $12 (equivalent to $95 today), and the game did not sell out. In fact, there were more than 32,000 empty seats in the 94,000-seat Coliseum. The home audience was bigger — around 50 million between CBS and NBC, which shared broadcasting rights — but there were no multimillion-dollar ads, no star-studded pre-game parties or concerts, and no corporate-sponsored halftime performances. Halftime was almost a bit of an afterthought. It was designed to entertain folks in the stadium, not a television audience. And it provided a break in the game for fans to use restrooms and visit concession stands. The first show featured two marching bands — one from the University of Arizona and another from Grambling College — as well as trumpeter Al Hirt, with a setlist paying tribute to different regions of the United States.
The next several halftime shows also featured local college marching bands performing patriotic songs. Starting in 1970, however, bigger names began to appear as a complement to the bands — think jazz artists and performers of standards and show tunes, such as Ella Fitzgerald, Carol Channing, and Andy Williams.
The 1976 halftime show, a celebration of America's bicentennial, further upped production value and kicked off a series of themed, field-filling spectacles. Held in Miami, it was the first to utilize concert-quality sound technology rather than whatever audio equipment the stadium already had in place. The theme was "200 Years and Still a Baby," and the show featured Up With People, a nonprofit service organization centered around a troupe of young singers and dancers. Up With People later returned to the Super Bowl to perform an additional three times, making them one of the most frequent halftime performers in Super Bowl history. (The aforementioned Grambling College Band is No. 1, with six halftime shows under their belt.)
The 1977 event, in Pasadena, continued the themed trend, with a Disney-produced halftime show featuring Mouseketeers and a coordinated card stunt where spectators held up colored flashcards on cue to create different visuals around the stadium. And in 1978, the show welcomed a drill team from Tyler Junior College, as well as some well-trained Frisbee-fetching dogs.
The 1980s
Themed halftime spectacles continued into the 1980s, with tributes to the silver screen, the 1950s, the 1960s, and Mardi Gras. Marching bands and musical revues continued to be fixtures alongside dance and drill teams, floats, balloons, and even jetpacks. In 1983, the show again included audience participation, with fans holding up color-coded flashcards at specific intervals and sweeping Pasadena's Rose Bowl in fields of color.
The 1986 spectacular was the first to require the design and construction of a set and stage. And the following year, the show included a pre-recorded comedic set by George Burns, who was 91 at the time. But the 1988 halftime extravaganza is the true precursor to the modern spectacle we know and love. Produced by Radio City Music Hall as a tribute to the piano, the show featured 1,200 performers, among them Rockettes, Jazzercisers, pianists, swing band musicians, and singer Chubby Checker.
In 1989, things went commercial, with Coca-Cola providing 3-D glasses that made a Diet Coke ad come to life to start the show. The headliner was Elvis Presto, an Elvis Presley impersonator who also performed magic tricks.
The Modern Halftime Show
The 1990s saw the Super Bowl halftime show finally morph into the A-list extravaganza it still is today. In 1990, for a New Orleans-themed show that also served as a tribute to the Peanuts comic strip for Snoopy's 40th birthday, singer Irma Thomas, jazz clarinetist Pete Fountain, and fiddle player Doug Kershaw performed on a custom stage that crew members turned into a 120-foot-long steamboat midway through. The set was so imposing that one of the goalposts on the field had to be hurriedly removed and reinstalled.
The next year, halftime went pop with New Kids on the Block. Although they were the first major contemporary band to perform during the big game, their performance was largely overshadowed by news reports (which superseded their live show) and Whitney Houston's instantly historic rendition of the national anthem earlier in the day. NKOTB was just the first of many pop acts to come, though.
The rest of the 1990s saw fewer themed events than decades past, aside from an Indiana Jones spectacle with pyrotechnics, skydivers, and snakes in 1995. Instead, shows celebrated superstar musicians or musical genres — including, notably, country, Motown, salsa, and, of course, Diana Ross, who wrapped up her heralded 1996 performance by boarding a helicopter that whisked her right out of Tempe's Sun Devil Stadium.
The Super Bowl halftime show that probably best represents today's modern spectacular, however, was Super Bowl XXXV in 2001, produced in collaboration with MTV. Aerosmith headlined with a roster of young pop and R&B acts including Nelly, Mary J. Blige, Britney Spears, and NSYNC. The performance — a melting pot of genres that juxtaposed classic rockers with teenybopper idols, created a template for the 21st century Super Bowls we enjoy now.
Major Moments
Since New Kids on the Block ushered in the age of pop acts at modern Super Bowl halftime shows, there has been no shortage of memorable performances and watercooler moments. Critics agree that 2007's show — which featured Prince performing a spate of hits and a Foo Fighters cover through a Miami thunderstorm — is among the best in history. Likewise, U2's post-9/11 performance in 2002 has been almost universally lauded. The performance was an emotional, pro-peace tribute to lives lost and the American experience.
More recently, in 2013, Beyoncé triumphed with a collection of hits and a surprise reunion with her Destiny's Child bandmates. And in 2015, audiences fell in love with the colorful and cartoonish extravaganza Katy Perry brought to Super Bowl XLIX in Glendale, Arizona.  Watched by more than 118 million viewers, it featured the pop singer riding to the stage on an animatronic tiger (or lion) before rotating through multiple costume changes. She was flanked by two dancing sharks — one of whom seemed to forget its choreography. The show also featured a triumphant comeback performance for rap darling Missy Elliott.
Two years later, in 2017, Lady Gaga made waves with her halftime extravaganza, which began with a pre-recorded aerial stunt involving a dive from the roof of NRG Stadium onto the field below.
Of course, not every big moment is a good one. The 2004 Super Bowl featured the most controversial halftime show in history — a now-infamous performance that ended with a "wardrobe malfunction" that exposed Janet Jackson's breast on live television. The fallout was immediate, with both Jackson and co-performer Justin Timberlake taking hits to their career. The FCC received 540,000 complaints and fined CBS, which aired the game, $550,000. (CBS later appealed and got the fine thrown out.) In the years following, the NFL booked a series of lower-risk legacy acts including the Who, Tom Petty, Paul McCartney, the Rolling Stones, and Bruce Springsteen.
In 2012, Madonna performed, emerging on a gladiator-powered chariot before performing several of her classic hits. The spectacle also featured MIA, who infamously flashed her middle finger during the performance. She was fined by the NFL.
Performers, Fees, and Record Sales
While the Super Bowl halftime show is one of the biggest gigs a musician can book, they don't get paid to appear. That said, the NFL does foot the bill for all performance-related budgets, including stage set-ups and props, lighting, fireworks, fees for stagehands, backing bands, dancers, and any other bits and bobs the performers dream up. The gigs' costs have been known to top $10 million — no small fortune for a performance that generally lasts about 13 minutes. Additionally, in 2019, Maroon 5 and Travis Scott asked the NFL to partner with them on $500,000 donations to charity .
Even without a check from the NFL, however, many performers enjoy massive spikes in music sales and streaming after their Super Bowl performances. Justin Timberlake saw a 534% increase after his 2018 performance, while Lady Gaga saw a 1,000% increase in 2017. Meanwhile, Missy Elliott saw a 2,500% increase — and she didn't even have new music out at the time.
Super Bowl 2022
The 2022 Super Bowl halftime show will take place on February 13, 2022, at SoFi Stadium in Los Angeles, California and featured Dr. Dre, Snoop Dogg, Eminem, Mary J. Blige, and Kendrick Lamar.