What kind of cereal do you prefer? Are you the type who likes something on the healthful side with minimal sugar? Or are you loyal to sweet cereals often featured in commercials during Saturday morning cartoons? Whichever camp best describes you, you shouldn't be surprised that some of the most popular cereals in America have their origins from the first half of the 20th century — and some a little older.
The best-selling cereals as of 2017 data compiled by Statista are private label brands (e.g. Target and grocery store brands). But if you've ever wondered which name brand cereals are the most popular in the United States, keep reading! We've outlined them in order of popularity from greatest to least.
Honey Nut Cheerios
Cheerios have been a popular brand since they first appeared in the 1940s. But if the plain version leaves a little to be desired, you might like one of their spinoff flavors — honey nut. The nation's most popular cereal first launched in 1979 and once upon a time was flavored with actual nuts. But in 2006 General Mills began using peach and apricot pits to create that nutty flavor. People also love that adorable bee mascot.
Honey Bunches of Oats
Post Honey Bunches of Oats is probably as well known for the commercials featuring their factory workers asking, "Have you tried it yet?" The cereal first appeared on shelves in 1983 and was developed by a Post employee, Vernon J. Herzig, when he mixed bits of other Post cereals together to create the flavor blend. Post has released over 30 varieties of Honey Bunches of Oats—many of which appeared only in select countries.
Frosted Flakes
"They're gr-r-reat!" Who doesn't love Tony the Tiger, the deep-voiced, strong yet friendly mascot that first began production in 1952? Much like some of the other sugary cereals on this list, Frosted Flakes was a sweetened update to the plain Kellogg's Corn Flakes. Originally known as Sugar Frosted Flakes, the brand dropped "Sugar" from its name in 1983 over dietary concerns. Frosted Flakes is an international hit, with varying names sold by Kellogg's on almost every continent.
Cinnamon Toast Crunch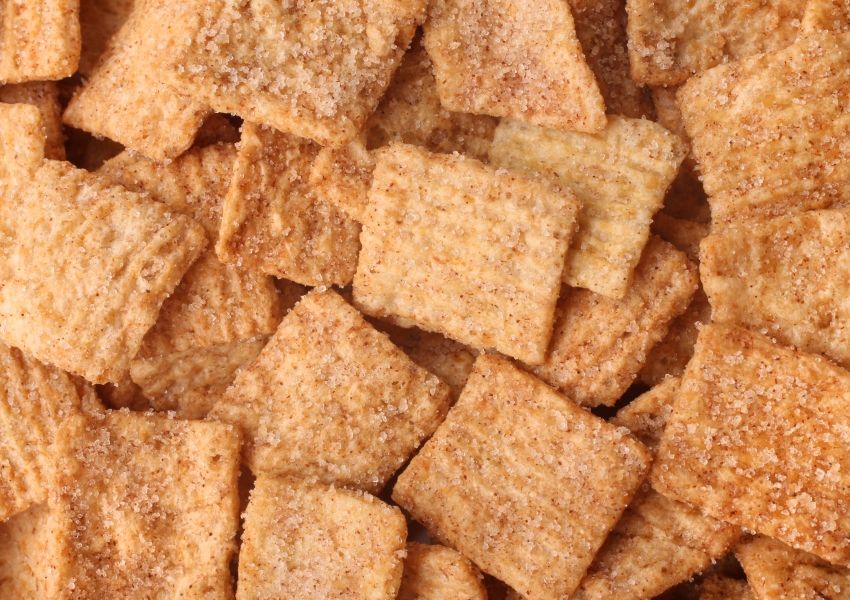 If you're a sugar fiend, Cinnamon Toast Crunch should be on your list. The General Mills cereal first appeared in 1984 and has been a fan favorite ever since. You can find the sweet treat on shelves in Canada and the U.K. and with different names in other parts of Europe and Latin America. The cereal has changed mascots over the years: Wendell the baker served as the mascot until 2009, and today, we have "Crazy Squares," disturbing pieces of the cereal that seem to enjoy eating their own kind!
Cheerios
Yes, Cheerios made the list twice. But this time, we're focusing on the original version. Cheerios first launched as CheeriOats in 1941 before switching to their current name in 1945, and their marketing message hasn't changed very much from the early days. This heart-healthy cereal has always prioritized its high fiber content and pure ingredients. Today, Cheerios doesn't have a mascot, although they do have a pretty catchy jingle—"Good Goes 'Round," which is sung by the Boston-based rapper, Latrell James. In total, 21 flavor variations of Cheerios are available.
Froot Loops
You shouldn't be shocked that there's not any real fruit in Kellogg's Froot Loops. The sugary and colorful cereal first hit shelves in 1963 and is famously fronted by their mascot Toucan Sam. Fun fact: his bill features three colors—the original loop colors orange, red, and pink. In later years, Kellogg's added blue, purple, yellow, and green. Of all the cereals on this list, Froot Loops has proven most prevalent in pop culture, with features in movies, TV shows, and music.
Frosted Mini-Wheats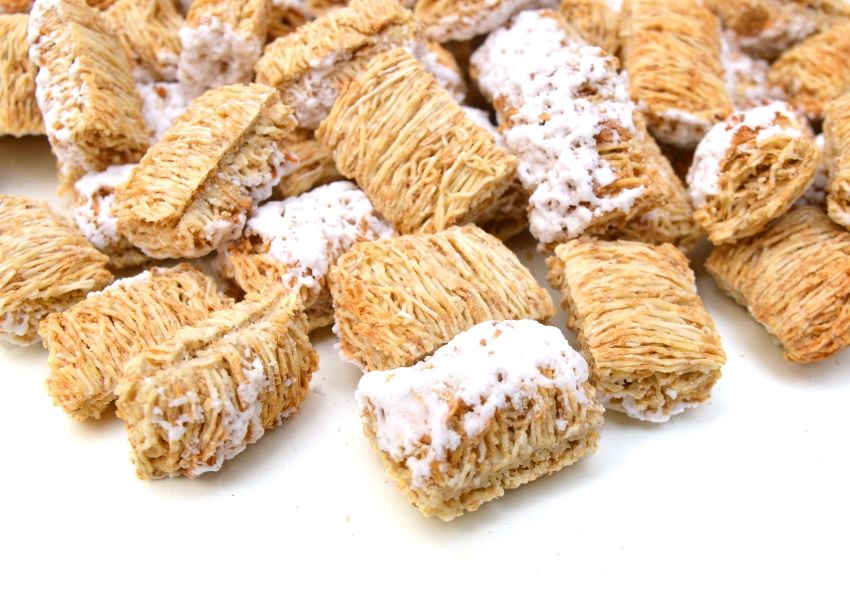 Kellogg's Frosted Mini-Wheats used to be bigger than today's version. But regardless of size, the pseudo-healthy treat continues to be a fan favorite. The cereal first appeared in 1969 and created a number of spinoff flavors, including 10 varieties that are still available depending on your country. The cereal portfolio is available in the U.S., UK, and Canada. Vegans beware, though: Frosted Mini-Wheats contains gelatin.
Lucky Charms
Do you like circus peanuts? Would you eat them in your cereal? Well if General Mills' Lucky Charms is your favorite cereal, the answer to both of those questions is yes. The cereal was created in 1964 when product developer John Holahan mixed Cheerios with chopped up Brach's Circus Peanuts. However, the cereal didn't become a hit until General Mills began sugar coating the Cheerios. Whether you like the actual cereal, most of us love their longtime mascot, Lucky the Leprechaun.
Raisin Bran
Officially, the name "Raisin Bran" isn't trademarked, so all the major cereal brands sell a version of this cereal that includes that name. But with this list, we're specifically talking about the Kellogg's version. Once upon a time in 1926, it was trademarked, owned and exclusively sold by a company called Skinners. That was until 1944 when a U.S. Circuit Court stripped the trademark because a judge ruled that the name wasn't proprietary but rather just a list of ingredients.