Have you ever imagined what it would be like to live thousands of feet above sea level? We know that places like Denver or even Machu Picchu soar far above sea level. Visitors to these places can often experience complications from high elevations such as shortness of breath and the aptly named altitude sickness.
But interestingly, neither of those two places is the highest elevated towns on their respective continents. You might be surprised by the locations that make the list for highest elevated "towns" in each continent.
North America — Alma, Colorado
Elevation: 10,578 feet
Denver might be called the Mile-High City, but it isn't the highest city in the country (or even in Colorado). The Centennial State is home to the highest town in North America, though. Alma is located in central Colorado and has the distinction of being the highest incorporated town on the continent. About 275 people call the former mining town home. The tiny town was founded in 1873 and is surrounded by mountains, five of which rise above 14,000 feet.
South America — La Rinconada, Peru
Elevation: 16,700 feet
Machu Picchu might get all the attention in terms of height, but there's an inhabited town in the Peruvian Andes that is the highest in South America. La Rinconada is not only the highest on the continent, but the highest permanent settlement in the world. Once a sleepy little town, the nearby gold mine attracted significant numbers of workers, and the population was at 50,000 in 2012. Travelers beware: The town ballooned so quickly that it lacks basic infrastructure like electricity and running water.
Europe — Ushguli, Georgia
Elevation: 7,190 feet
While La Rinconada might be a bustling town, most towns at high elevations have low populations. Ushguli is home to just over 200 people and consists of four closely situated villages in the Caucus mountains of Georgia. At 7,190 feet, it's the tallest inhabited town in Europe. For half the year, it's almost impossible to reach the region because of heavy snowfall. Its remote location has helped to keep the village in a near pristine condition from when it was first created in the 12th century. Because of this, Ushguli is a UNESCO World Heritage site.
Africa — Addis Ababa, Ethiopia
Elevation: 7,726 feet
In contrast to remote Ushguli, Addis Ababa is not just the highest-elevation town in Africa, it's also the capital city of Ethiopia. This popular tourist destination is a bustling place where the nation's historic roots mix in a fascinating way with modern aesthetics. Addis Ababa is known as the political epicenter of Africa because of the numerous organizations headquartered there. Most notably, the African Union and the United Nations Economic Commission for Africa are based in the city.
Asia — Everest Base Camp, Tibet & Nepal
Elevation: 16,900-17,598 feet
With all the bustling cities in India and China, you're probably surprised that the highest inhabited place in Asia isn't a city or even a town. Instead, it's a collection of base camps located at the north and south side of Mount Everest. The North Base Camp is situated on the Tibetan side of the mountain and is at 16,900 feet while the South Base Camp is in Nepal at 17,598 feet.
Officially, these aren't towns but rather rudimentary campsites where supplies must be shipped in for thrill seekers hoping to scale the mountain. Because the Tibetan side is strictly regulated by the Chinese government, it sees much less traffic than the Nepali camp, which hosts as many as 40,000 people. However, both camps are essential as climbers use the bases to rest and acclimate to the elevation for several days before attempting to conquer Mount Everest.
Australia — Perisher Village
Elevation: 5,626 feet
If you haven't noticed by now, most of the highest inhabited towns are located either within mountains or at the base of them. And Australia is no different. The continent-slash-country has its own high-elevation town, Perisher Village (also known as Perisher Valley or just Perisher). Ominous name aside, the town is like Ushguli, in that it's a collection of several smaller towns. Perisher is a popular ski resort village during Australia's winter season. However, the town is inhabited year-round. Low-season estimates put the town's population at 149 people (from the 2011 census); those numbers balloon to 2,500 during the winter.
Antarctica — Vostok Station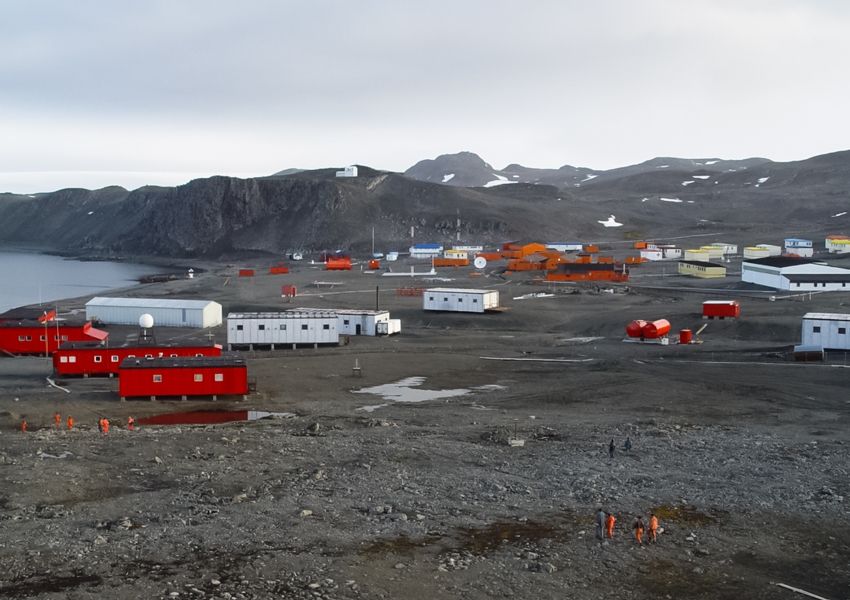 Elevation: 11,444 feet
Most people don't think that anyone would live in Antarctica — at least not full-time. However, scientists from 30 countries operate research stations on the harsh continent. In total there are 75 stations spread throughout the continent with 45 serving as year-round sites and 30 as summer stations. Of the year-round sites, Vostok Station sits at the highest elevation and is operated by Russia. While it's not the oldest research station, it was founded in 1957 under the Soviet Union and has been in operation for over 60 years. Vostok Station is located in Princess Elizabeth Land, an area considered inhospitable with record temperatures as low as -101 F and a wind chill of -191 F.
Of course, there are numerous inhabited towns, cities, and settlements around the world that are at high elevations. Have you made it to any of these high-elevation towns? Are there any that you feel should have made this list?
Cover image credit: Jacek_Sopotnicki / iStock