In some circles, a state fair is the highly anticipated culmination of the subtleties, quirks, and characteristics that define that particular state's people and places. It's a time to celebrate statehood in a way that's uniquely tailored to the state's attractions and excitements.
Daytime excitements often include arts and crafts, livestock judging and food vendors galore, while nighttime attractions swing toward bright neon lights, spinning carnival rides, and spotlight arenas hosting demolition derbies, tractor pulls, and rodeos.
State fairs are meant to entertain and bring people together, and the biggest state fairs in the nation see millions of people in attendance year after year. Let's take a quick dive into how this tradition began and the history that followed.
State Fairs Began as Unofficial Sheep Sheering Demonstrations
One man and his sheep are often given credit for lighting the first spark to what would later become the state fair tradition. Elkanah Watson began raising Merino sheep on a farm in Pittsfield, Massachusetts in the early 1800s. Watson, proud of his sheep, brought two prized specimens to Park Square for all to see in 1807, drawing a sizable crowd.
Watson's sheep parades (he was known to take his sheep to the square on more than one occasion) began the gears turning on what would become the first agricultural fair in the United States that year. It would consist of Watson's sheep and sheering demonstrations only.
By 1811, Watson had helped organize the Berkshire Agricultural Society, a group of friends and farmers, and local agricultural fairs evolved to include cattle shows and livestock showcases. The notion soon caught on, and communities outside of Massachusetts began hosting their own agricultural fairs. These types of events eventually grew in size and scope to become state fairs.
The Very First State Fair Was Held in New York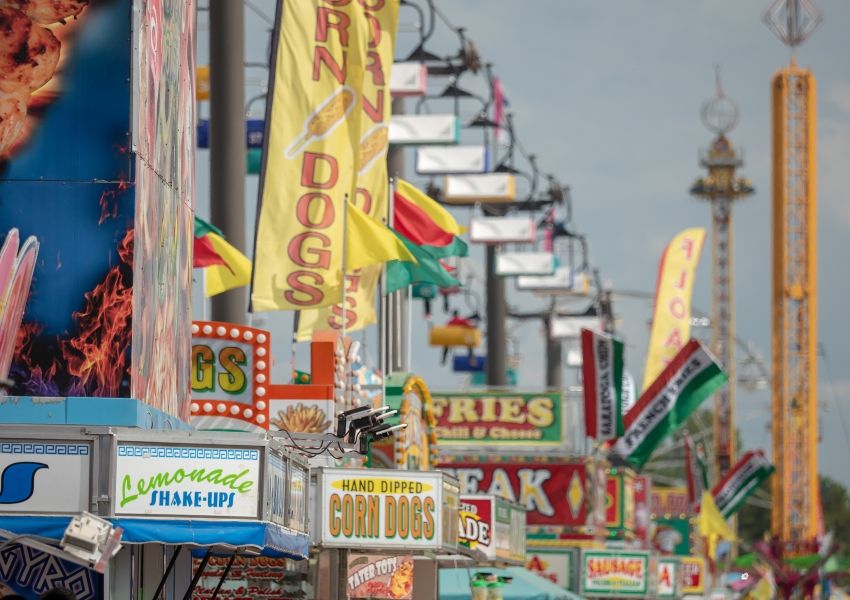 State fairs as they exist today—a cornucopia of carnival rides, neon-lighted games, and inexpensive novelty prizes—didn't take root until the late 20th century. The one-and-only original state fair was officially held in 1841 in Syracuse, New York, as a recreational gathering and agricultural competition.
This inaugural state fair began as a natural extension of the New York State Agricultural Society and was first organized in an attempt to promote agricultural improvement. Approximately 15,000 people gathered in Syracuse in late September 1841 to enjoy a plowing contest, sample manufactured goods, and view animal exhibits.
The first state fair was appropriately called the New York State Fair, but it would see a number of distinctive titles throughout the years. These included the New York State Agricultural and Industrial Exposition (1938) and the New York State Exposition (1961). Today, given its history and long-standing tradition, the annual event still held in Syracuse is called The Great New York State Fair, and more than a million people attend every year.
The Rest is State Fair History
States began to catch the fair bug after the success of the New York State Fair in 1841. Livestock shows and the likes grew in size and popularity, but nothing compared to New York's state fair until Michigan joined the party in 1849. The Michigan State Fair, held in Detroit, was one of the first statewide fairs in the United States.
States like Texas, Maine, South Carolina, Iowa, and more would jump on the state fair bandwagon over the next half-decade, hosting their own statewide events and increasing annual attendance as popularity spread. Livestock shows and sheep sheering were still part of the appeal, but as state fairs grew, so too did their entertainment offerings. Soon, state fairs included things like x-ray machine demonstrations, vehicle showcases, and telephone/television/photography exhibitions.
State Fairs, World Fairs, and Technology Expos Abound Today
State fairs paved the way in America for larger, more elaborate, often-specialized events held in the country, and people continue to create new and exciting events for the public to enjoy.
The first World's Fair event hosted in the United States took place in New York City in 1853 and was called the Exhibition of the Industry of All Nations (AKA the New York Crystal Palace Exhibition). More than a dozen similar World's Fairs have been hosted in the United States since that time.
Today, annually, hundreds of different events and expositions are held all around the country, ranging from individual state fairs to pop culture exhibitions and consumer electronics shows.