The Sunday funnies are as much a part of the quintessential American newspaper as the crossword puzzle and want ads. And though the number of print newspapers in circulation has decreased significantly over the past few years, comic strips and the characters borne of them are still a touchstone of our culture: Calvin and Hobbes, Cathy, Peanuts, Garfield, and Dilbert are just a few of the household names that are rich with nostalgia. Before these colorful comic strips came into being, however, there were decades' worth of comics depicting everything from a wisecracking police detective to a punk kid with a slingshot to a glamorous newspaper reporter who always got the scoop.
Here, we've rounded up some of the longest-running comic strips, many of which have changed hands over the years. Whether we realize it or not, comic strips help capture the essence of the moment, and through them we can glimpse into the zeitgeist of a generation — often with a necessary splash of humor.
"The Katzenjammer Kids" (1897 to 2006)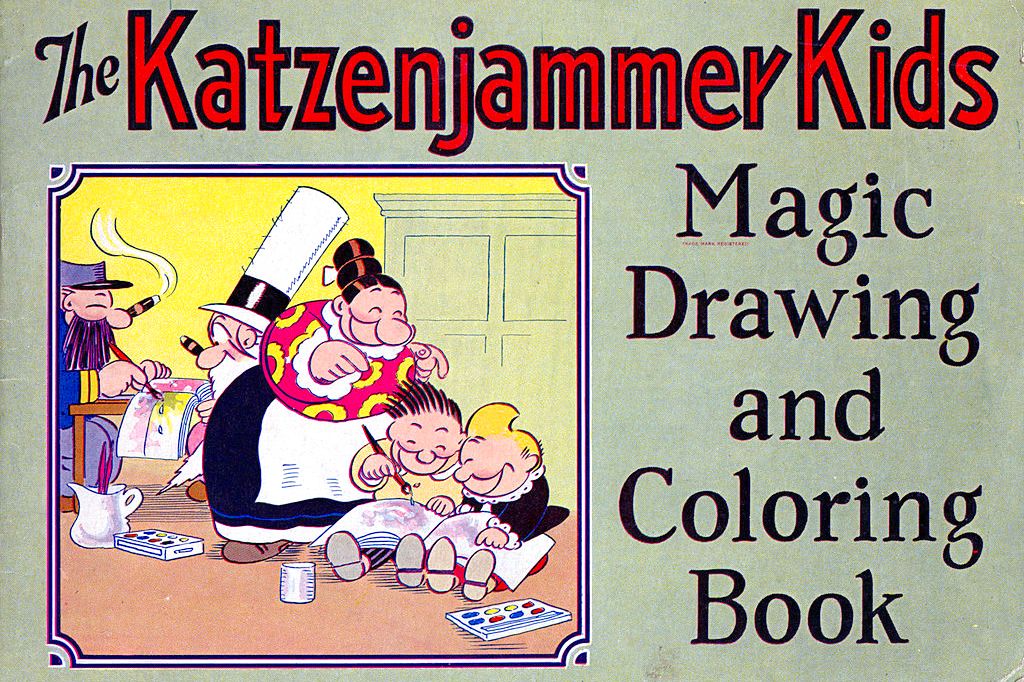 The Katzenjammer Kids isn't widely known anymore, but it holds a few Sunday Funnies distinctions. Cartoonist Rudolph Dirks was 20 years old when his comic following the mischievous duo of Hans and Fritz, two young troublemakers who get into tiffs with their parents and school officials, first ran. Dirks created the series for William Randolph Hearst's New York Journal in 1897, but when he took a job at New York World, Hearst kept the name of the comic. This led to a lawsuit and Dirks' creation of a competing, near-identical strip called The Captain and the Kids, which ran from 1914 to 1979. The Katzenjammer Kids was drawn by a number of other cartoonists until it ceased syndication in 2006 — an amazing 109-year streak. Dirks, most notably, is credited as the first cartoonist to use speech balloons to express character dialogue, a practice that is still very much used today.
"Gasoline Alley" (1918 to present)
Gasoline Alley was created by cartoonist Frank King in 1918 during his tenure at the Chicago Tribune. The premise is pretty straightforward: The strip follows a group of automobile enthusiasts who meet in an alley. It largely revolves around a main character, Walt Wallet, and his circle of family and friends. In 1921, King's editor asked for the comic to introduce a baby, since he believed that would draw more female readers. To solve the problem of Walt being a bachelor, King had Walt discover a baby on his doorstep; he named him Skeezix (a cowboy slang term for an orphaned calf). And then, King added a dimension that was brand-new to comics: He let the characters age in real time. Skeezix grew into a child and then a teen and eventually enlisted during World War II. Walt also aged, married, had more children and then grandchildren. Gasoline Alley is still going strong; it's now drawn by cartoonist Jim Scancarelli, who explains Walt now aging well past 100 as "Walt has good genes."
"Barney Google and Snuffy Smith" (1919 to present)
Rounding out the trifecta of longest-running, uninterrupted Sunday comic series of all-time is Barney Google and Snuffy Smith, the brainchild of cartoonist Billy DeBeck. It started as a daily strip in the sports section of the Chicago Herald and Examiner in 1919, with the title Take Barney Google, F'rinstance. The titular character was a diminutive man with large "banjo" eyes who played poker and bet on horse races and prize fights. A horse named Spark Plug was added in 1923, and in 1934 Barney met Snuffy Smith, a hillbilly moonshiner who has been with him ever since.
Fun fact: The common phrase "googly eyes" actually originated from the comic strip, in reference to Barney's huge eyes, and a song called "Barney Google (with the Goo-Goo-Googly Eyes)" was released in 1923.
"Little Orphan Annie" (1924 to 2010)
For most folks, the mention of Little Orphan Annie conjures up images of an innocent little redhead and her beloved dog, Sandy. It might even cue that catchy song about perseverance and how the sun will most definitely come out tomorrow. But although the strip was positively received over the years, it was also pulled from newspapers nationwide numerous times for its often controversial storylines (in one instance in 1935, the comic was pulled and replaced with a large black banner reading "Deleted! For violation of reader trust!"). Its creator, Harold Gray, was known to use the Daddy Warbucks character as a mouthpiece for his political views, and those plots included everything from calling all political leaders criminals to criticizing the country's mental health care system. Eventually, the comic ran its course and was discontinued in 2010, having spawned a beloved musical and a number of movies.
"Popeye" (1929 to 1994)
Popeye (full name, Popeye the Sailor) was first introduced into the cultural lexicon after appearing in the King Features comic strip Thimble Theatre in 1929. But the muscular sailor proved to be so popular that the strip was renamed Popeye in later years. Popeye's defining features — a pipe protruding out of his mouth, two anchor tattoos on his forearms, and his love of spinach — have been mainstays in pop culture and have shown up in comic books, video games, TV cartoons, and even a 1980 live-action film starring Robin Williams as Popeye. The popular fast-food chain Popeyes, however, is not tied to the comic, despite previous speculation.
"Blondie" (1930 to present)
Blondie is a comic strip that shows how the (cartoon) nuclear family can shift and adapt over time. The strip, created by Chic Young in 1930, chronicles the daily lives of titular character Blondie Boopadoop, a former flapper turned housewife; her husband, Dagwood Bumstead, a former heir who's always late for work; and their two teenage children, Alexander and Cookie. Though the characters themselves haven't aged a day, their lingo and accessories have shifted over the years to get with the times, including the slow modernization of their kitchen, the addition of cell phones, and references to Facebook, modern music, and current TV shows. After Chic died in 1973, creative control for the strip passed to his son, Dean Young; the comic is still going strong, 90 years later.
"Dick Tracy" (1931 to present)
Dick Tracy the comic strip birthed Dick Tracy the American icon. Cartoonist Chester Gould created the sharp, crime-fighting police detective in 1931, and the titular character is perhaps best known for his square jaw, bright yellow hat and coat, and his super-enviable two-way wristwatch. One of the long-running series' most memorable periods (besides the Madonna period) was perhaps the "Space Period," when Dick was fighting crime and tracking down bad guys on the Moon. Presently, the detective continues to fight crime (on Earth) and occasionally makes a cameo in other comic strips, as he did at Blondie and Dagwood's 75th anniversary party in 2005.
"Prince Valiant" (1937present)
Hal Foster was already known for his Tarzan comic strip in 1937 when he approached media mogul William Randolph Hearst with an idea for a comic strip. Foster, who was a fan of the King Arthur and the Knights of the Round Table legends, pitched a strip he called Derek, Son of Thane — an idea that Hearst loved with a title he hated. The comic was renamed Prince Valiant and Foster would go on to depict the young royal's epic adventures through different time periods, ranging from the late Roman Empire to the High Middle Ages. One notable feature of the strip is that there are no word or thought balloons at all; instead, the story is illustrated in captions situated at the bottom or sides of the panels.
"Brenda Starr, Reporter" (1940 to 2011)
Brenda Starr was originally created as a "girl bandit" character, but creator Dale Messick was encouraged to make the Rita Hayworth-esque Starr a reporter instead so that the Chicago/New York syndicate would pick it up. Not only that, but the creator was using a pen name: Knowing that the publisher had sworn off "women cartoonists," Dalia Messick switched to the more male-sounding name Dale Messick professionally. But even after it was accepted, Brenda Starr, Reporter still got second-class treatment, at least initially — when it first published in 1940, Brenda was relegated to the Sunday comic book supplement rather than the daily paper. Luckily, Brenda was a star, and the strip was a success long after Messick stopped writing it in 1982.
"Beetle Bailey" (1950 to present)
Regular readers of the Sunday comics will recognize Beetle Bailey for its consistent aesthetics and humor throughout the decades, due in large part to the fact that its creator, Mort Walker, was the illustrator for the strip for 68 years — from its inception in 1950 up to his death in 2018. This makes Beetle Bailey one of the oldest comic strips that was still being produced by its original creator, which is no small task. His sons Brian, Greg, and Neal Walker are keeping the strip alive following Mort's death. The comic strip chronicles the titular character's antics at Camp Swampy, which is broadly based on the real-life Camp Crowder in Missouri, where Walker was once stationed.
"B.C." (1958 to present)
Like an early Flintstones, B.C. features a group of cavemen and talking animals (including, of course, dinosaurs and other prehistoric creatures). It is often a tongue-in-cheek take on modern technology and woes, with shops in the strip displaying carved stone signs for "retail store," "wheel repair," or "psychiatrist." Cartoonist Johnny Hart created the strip in 1958, and his grandson Mason Mastroianni took over as both the artist and the writer of the strip when Hart died in 2007. The prehistoric comic continues to this day.
"Dennis the Menace" (1951 to present)
Mischievous little boys tend to do well for comic strips, as evidenced by Hank Ketcham's Dennis the Menace, a strip that has since sparked a live-action TV show in the 1960s, an animated show in the 1980s, and a series of film adaptations. The muse for the popular series was none other than Ketcham's young son Dennis, who was just 4 years old when the cartoonist first dreamed up the idea. Supposedly, Ketcham was trying to find the perfect name for his character when his then-wife Alice stormed into his studio and exclaimed, "Your son is a menace!" and thus, Dennis the Menace was born.
Featured image credit: waldemarbrandt67w/ Unsplash