In order to identify the most populous islands in the world, we need to define what an island is and what it is not.
Technically, Australia fits the definition of an island: a mass of land surrounded entirely by water. But geographers go a step further to note that a mass of land cannot be both a continent and an island. For our purposes of identifying the most populous islands in the world, continents are out.
According to World Atlas, there are too many islands to count, as they exist in lakes, seas and oceans. Some islands deserve an honorable mention for being so densely populated, like Santa Cruz del Islote, with 500 people living in 115 houses on an island the size of two soccer fields.
The islands on our list have the largest population, regardless of the island's overall size.
10. Borneo — 21.3 million people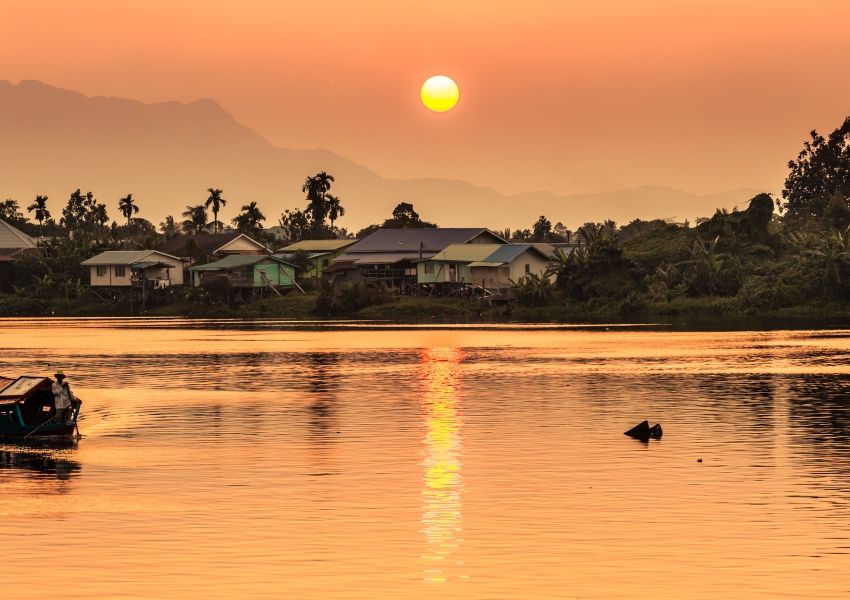 The third-largest island in the world and the largest in Asia, Borneo is bordered by Java and Sumatra, two other islands on our list, and is renowned for its beaches, diving locations and lush rainforest landscape. Indonesia, Malaysia, and Brunel make up Borneo's political position.
9. Sri Lanka — 21.44 million people
Located at the southern tip of India, Sri Lanka is a gorgeous island rich in its cultural, ethnic, and religious diversity. Lonely Planet named Sri Lanka its #1 travel destination in 2019.
8. Taiwan — 23.76 million people
Across 13,974 square miles, Taiwan holds the eighth spot of the most populous islands in the world, but by 2021 that may not be the case. The declining birth rate is attributed to long hours working away from home, which is not conducive to family life. Taiwan is the largest economy that not a member of the United Nations.
7. Mindanao, Philippines — 25.53 million people
This Philippine island is the second largest island of the archipelago after Luzon. Mount Apo is the highest peak in the Philippines and an active volcano. Mindanao is the most religiously and culturally diverse of the Philippine islands.
6. Madagascar — 25.57 million people
Madagascar is the fourth largest island in the world. While only 250 miles from Africa, most of the population is more closely related to the people in Indonesia, over 3,000 miles away. Wind patterns are attributed to the island's settlement. Even wildlife is less like Africa and unique to Madagascar.
5. Luzon, Philippines — 49.52 million people
Almost half of the Philippine population lives on the island of Luzon, the 15th largest island in the world. Luzon is one of the islands in the 7,641 Philippine archipelago, and only 2,000 of those islands are populated.
4. Sumatra, Indonesia — 50 million people
The fourth-most populous island is Sumatra, an Indonesian island to the south of Java. Sumatra is prone to earthquakes and tsunamis, including the devastating Indian Ocean tsunami in 2004, because it lies between two tectonic plates. Coffee is its most well-known export, but Sumatra is also a major player in natural gas, crude petroleum, rubber, cocoa and palm oil.
3. Great Britain — 61 million people
Great Britain is the world's third most populous island. More generally referred to as Britain, the island consists of England, Scotland and Wales, three countries in Europe. The size of Britain's population gives perspective to the islands of Java and Honshu (keep reading), as their populations greatly exceed Britain's.
2. Honshu, Japan — 103 million people
Japan is considered an archipelago, a cluster of islands. In this case, there are 6,852 islands, with Honshu being its most densely populated. Most of the country's major cities can be found on Honshu, including Tokyo. Honshu is also home to Mount Fuji, the highest mountain in Japan, a dormant volcano that last erupted in 1707.
1. Java, Indonesia — 140 million people
The world's most populous island is Java, an island of Indonesia. It is only the fourth largest island in Indonesia, but 57 percent of the country lives on Java. Located between the Indian and Pacific Oceans, 35 out of 112 of Java's volcanoes are active. In case you are wondering, Indonesia's earliest coffee plantations were started on Java. Pun intended.
Why are there so many islands in Indonesia?
You may have noticed several of the most populous islands in the world can be found in Indonesia. Indonesia is counting them and estimates there are 14,572 named islands and thousands more yet to be named. Its status as the largest archipelago in the world is an important distinction because its waterways are considered the most important in the world. The more islands it claims, the more waterways it can control for the country's economically abundant trade industry.