The top-selling Broadway musicals of 2018
The opportunity to grace the stages of Broadway is an honor that only select productions get to enjoy. It's these performances that woo audiences, providing them with an escape from reality and a trip into the fantastical through the use of song and choreography. It's no wonder that live theater is still a considerably large industry, drawing in figures that rival some big-budget movies.
The following musicals not only make up some of the most revered productions on Broadway, but they also have the distinction of being the highest earners of 2018. From a live sequel to a beloved book series to classic Disney tales, these musicals are what bring in the crowds to New York's iconic Broadway.
5. "Harry Potter and the Cursed Child, Parts One and Two"
2018 gross: $84.6 million
Since it opened in 2016, "Harry Potter and the Cursed Child, Parts One and Two" saw performances at the Palace Theatre in London, the Princess Theatre in Melbourne, and the Lyric Theatre at Broadway. The London and Broadway productions collectively took home more than 40 different awards, proving that Harry Potter was made for the stage.
It's no surprise, then, that its 2018 earnings topped out at over $84 million, beating out Disney's "Frozen" and "Aladdin." During its first week, "Harry Potter and the Cursed Child" brought in $2,138,859, breaking "All the Way's" record for biggest earnings in a week by nearly $500,000.
4. "Dear Evan Hansen"
2018 gross: $84.8 million
It may not have the name recognition of many of the other musicals on Broadway, but "Dear Evan Hansen," held its own at the theater's box office. By the close of 2018, it had beaten out a list of recognizable names with a total take of $84.8 million.
Based on the high school years of lyricist Benji Pasek, who co-wrote the lyrics and music with Justin Paul, "Dear Evan Hansen" explores mental health and youth suicide. It's a heavy topic for a musical, but the Broadway production brought in six Tony Awards, broke records, and garnered a novelization and attention from Universal Pictures.
3. "Wicked"
2018 gross: $93.9 million
A musical told from the point of view of the witches of Oz may have been a surprising take on the classic story, but it's proven to be the right move. In 2016, 13 years after first hitting Broadway, "Wicked" reached the $1 billion revenue mark, making it only the third musical in American history to bring in a ten-digit figure.
As for its 2018 earnings, it's clear that "Wicked" isn't slowing down. By the end of the year, it brought in $93.9 million with 759,803 seats sold. It also garnered 64 award nominations and 33 wins in eight years, including a pile of Tony Awards and even a Grammy.
2. "The Lion King"
2018 gross: $115.7 million
If there is any question as to the popularity of "The Lion King," it's worth noting that the musical started in 1997 and still has productions touring across the world. The Rafiki Tour opened in the United States in 2017 and has remained active across the nation.
Seeing as how audiences can't seem to get enough of Simba, Timon, and Pumbaa, it makes sense that "The Lion King" would be responsible for drawing in $115.7 million in revenue in 2018. Over the course of its run, the musical proved to be a moneymaker for Disney, even surpassing "Star Wars" as the company's top earner. Since 1997, "The Lion King" grossed just under $8.1 billion and won 15 awards, solidifying its spot as a Broadway favorite.
1. "Hamilton: An American Musical"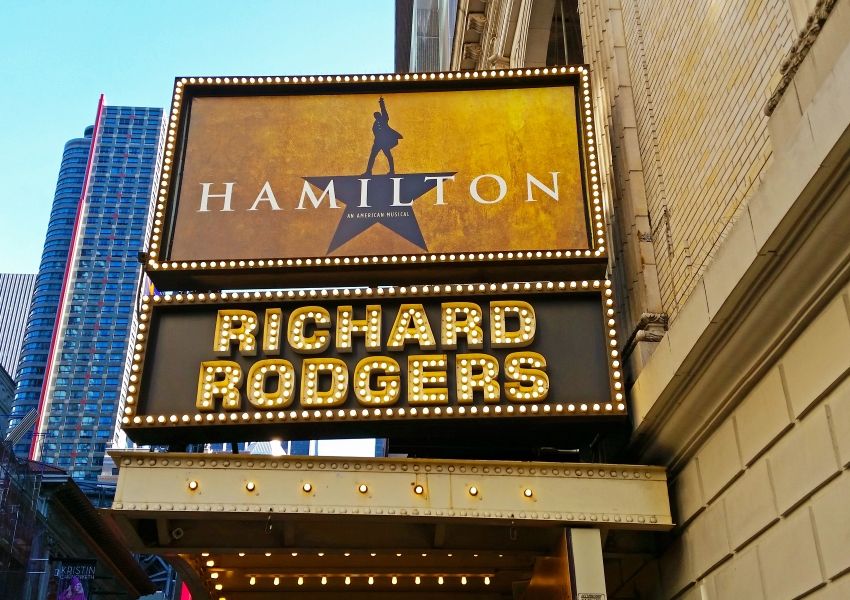 2018 gross: $162.7 million
It's not quite the life story you'd expect to warrant a musical, but Lin-Manuel Miranda found a clever way to make Alexander Hamilton's biography appropriate for the live format. "Hamilton: An American Musical" pulls real events from Hamilton's biography, "Alexander Hamilton" by historian Ron Chernow, and sets them to more than two dozen hip-hop musical numbers.
"Hamilton" went on to amaze audiences since debuting in 2015, earning a Pulitzer Prize and more than 20 awards for its original off-Broadway run and 11 Tony Awards for the Broadway production. It's also Broadway's highest-grossing musical of 2018, earning more than $162 million from 559,053 seat sales. In 2017, investors involved with "Hamilton" claimed to have seen returns of up to 600%.
Blockbuster hits on Broadway
There's something magical about musicals that we audiences can't seem to get enough of. Just about any concept can be built into a great musical production, and as these examples show, plenty of us are willing to show up in droves to see them played out.