The fireworks wait for no one, and you haven't even begun to figure out the spread for your big barbecue. Don't panic! There are plenty of things to grill that don't require excessive prep. The following items are easy options for quick grilling. Once you've figured out your choices for the grill, you can spruce up any spread with some cold sides like salads, dips, and snacks from the store. For a good spread, you're going to want to decide on proteins, veggies, and a starch.
Pork Chops
If you don't have the time to marinate ribs but still have a hankering for some pork on Independence Day, pork chops are a great alternative for quick grilling. Depending on your tastes, you can go as simple as salt and pepper or as wild as pineapple and chili. Simply season the pork chops to flavor and add whatever sauce you're craving before tossing the chops on the grill. If you have the time, you can whip up a honey garlic sauce by whisking together ketchup, honey, soy sauce, and crushed garlic cloves over medium heat to top your pork chops once they're off the grill.
Veggies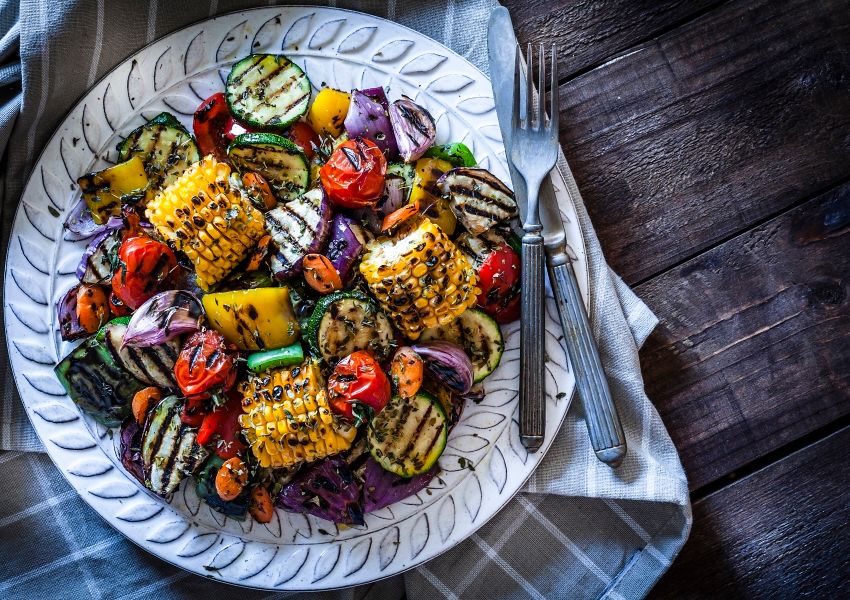 Regardless of what you're grilling, a side of veggies is nearly indispensable to the heaping piles of protein that people come to expect from barbecues. They're also easy to grill and accommodating to any of your guests with dietary restrictions. Zucchini, mushrooms, bell peppers, and onion are all classic staples for grilled veggies, and all they take is a little olive oil and salt and pepper to taste before popping on the grill and dicing up for a medley. Really, though, your imagination and the local grocery store are the only limitation. Corn on the cob is another easy staple that you can either wrap in tinfoil and toss on the grill or throw straight onto the heat in its husk. If you're feeling adventurous, you can even throw on some pineapple. Coat the fruit in honey, butter, and hot pepper sauce before throwing on the grill for an extra kick.
Seafood
Most seafood takes a little more prep time than the other entries on this list, but it's nothing that isn't easily manageable. If you're thinking of lobster, shrimp or scallops, you're going to want to get some skewers to ensure they heat evenly and keep some butter nearby with seasonings. For lobster, one easy way to go about it is to cut straight through the shell with a sharp knife, being careful not to pierce the meat and then split it open like a book. Brush the flesh with butter and season before tossing on the grill flesh-side down. Grill for 5-7 minutes and then flip back onto its shell to grill for another 4-5 minutes. The result is tender, juicy, and buttery lobster tail straight out of the shell.
The Classics
Needless to say, hot dogs and burgers are straightforward staples to any Fourth of July barbecue. There's not a whole lot to it other than season to taste and grill, but the nice thing about the staples is that they give you and your guests a little window for personal flair. Toss on some grilled onions and mushrooms or a slice of grilled pineapple with some teriyaki sauce, slice up avocado beforehand, or keep some bacon nearby with cheese. Give your guests a chance to make it their own. Just don't forget the buns.
Whichever direction you decide to go, make sure that you have enough time to enjoy the fruits of your labor and get a glimpse of any fireworks. Happy Fourth of July!